Alleggerita (English edition)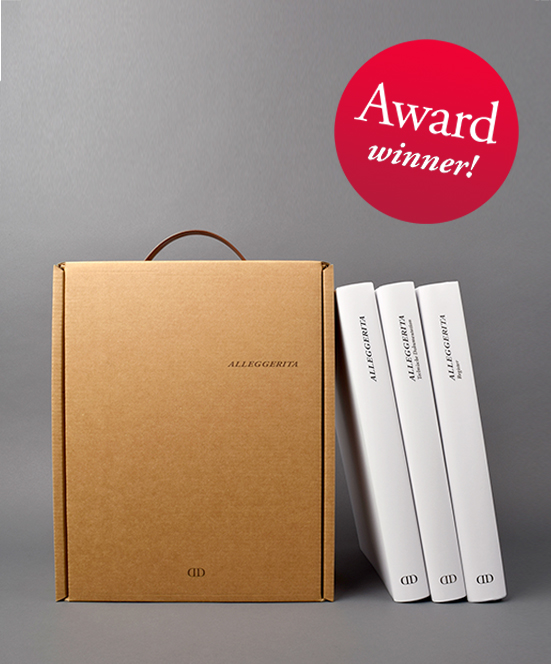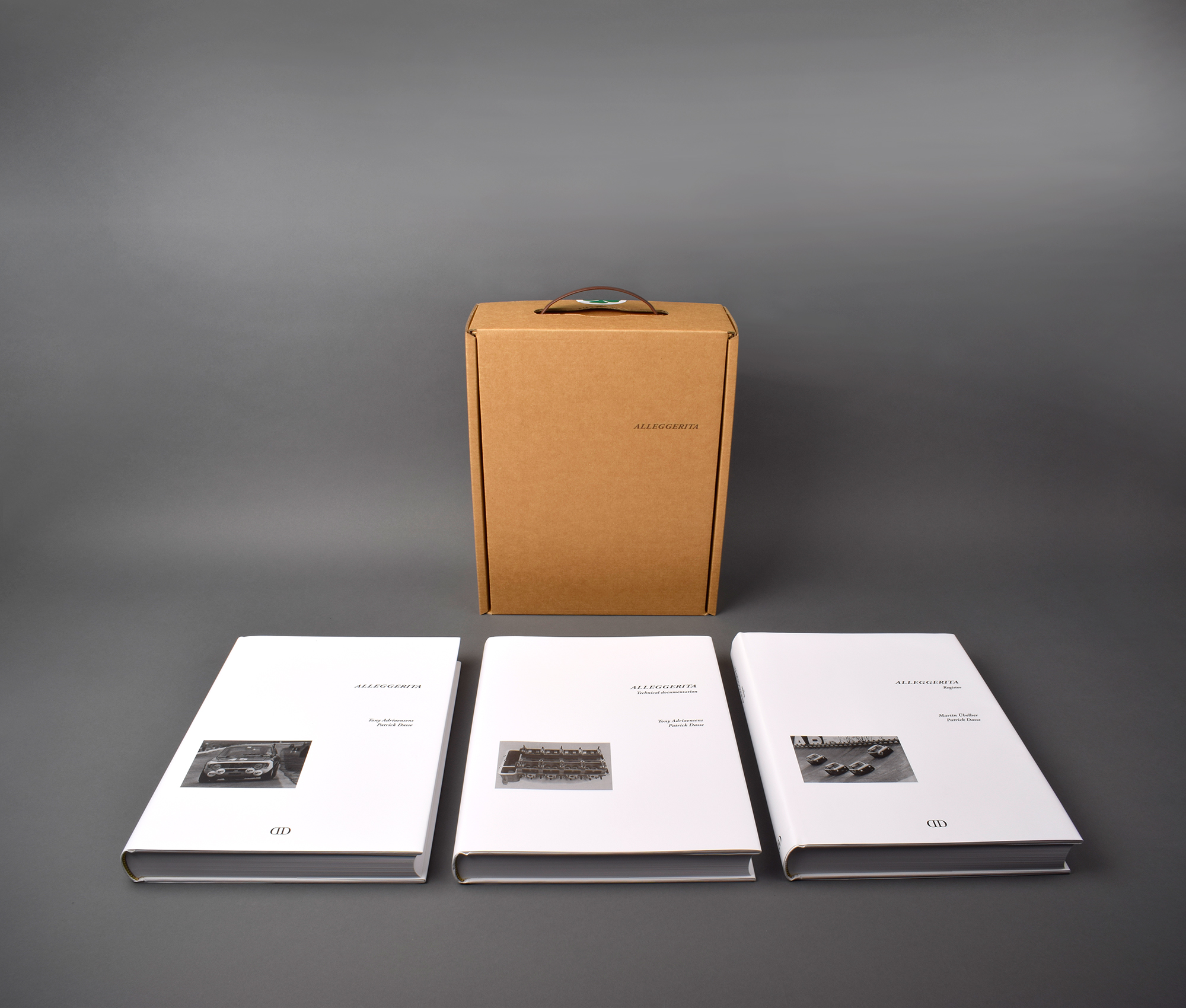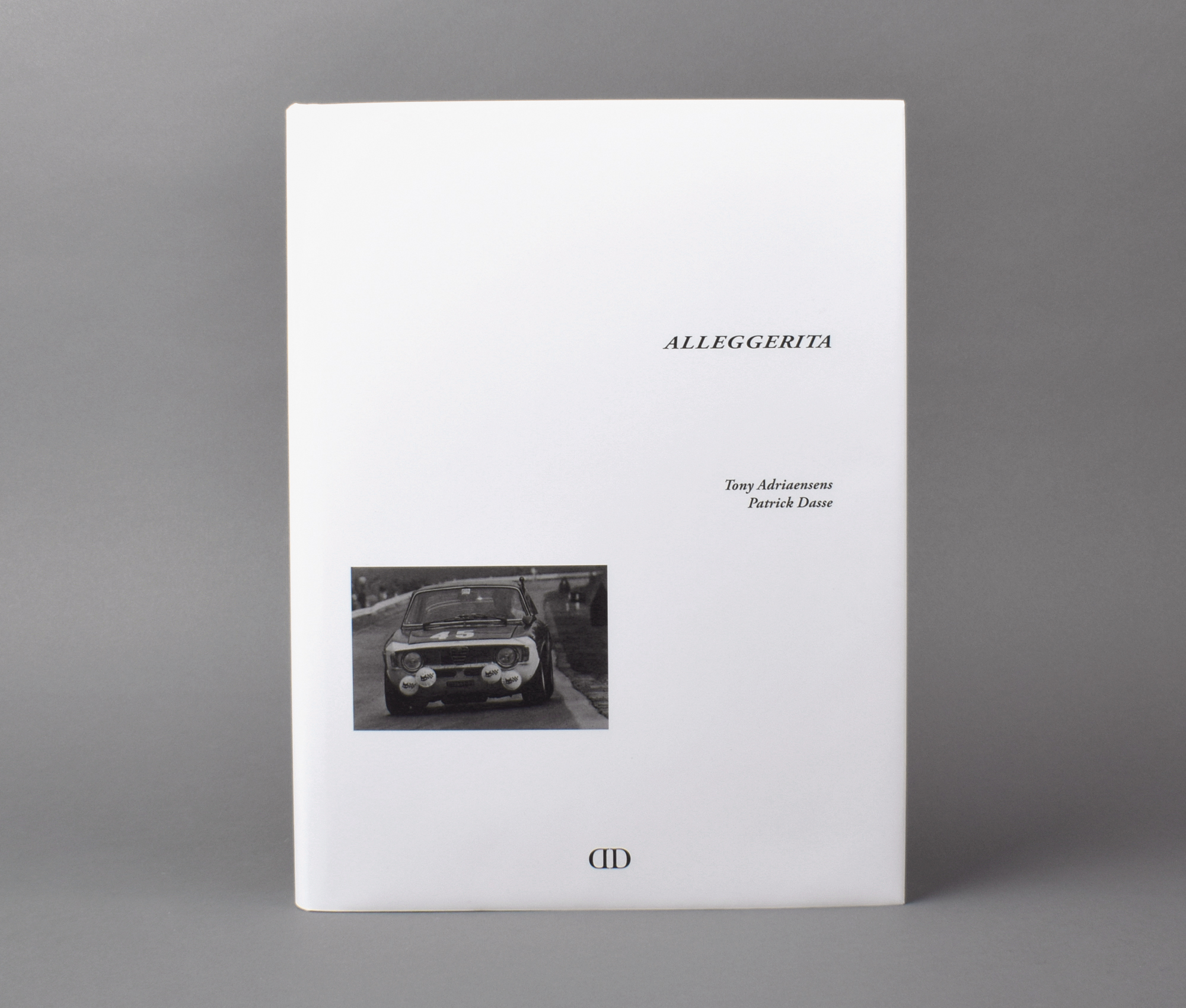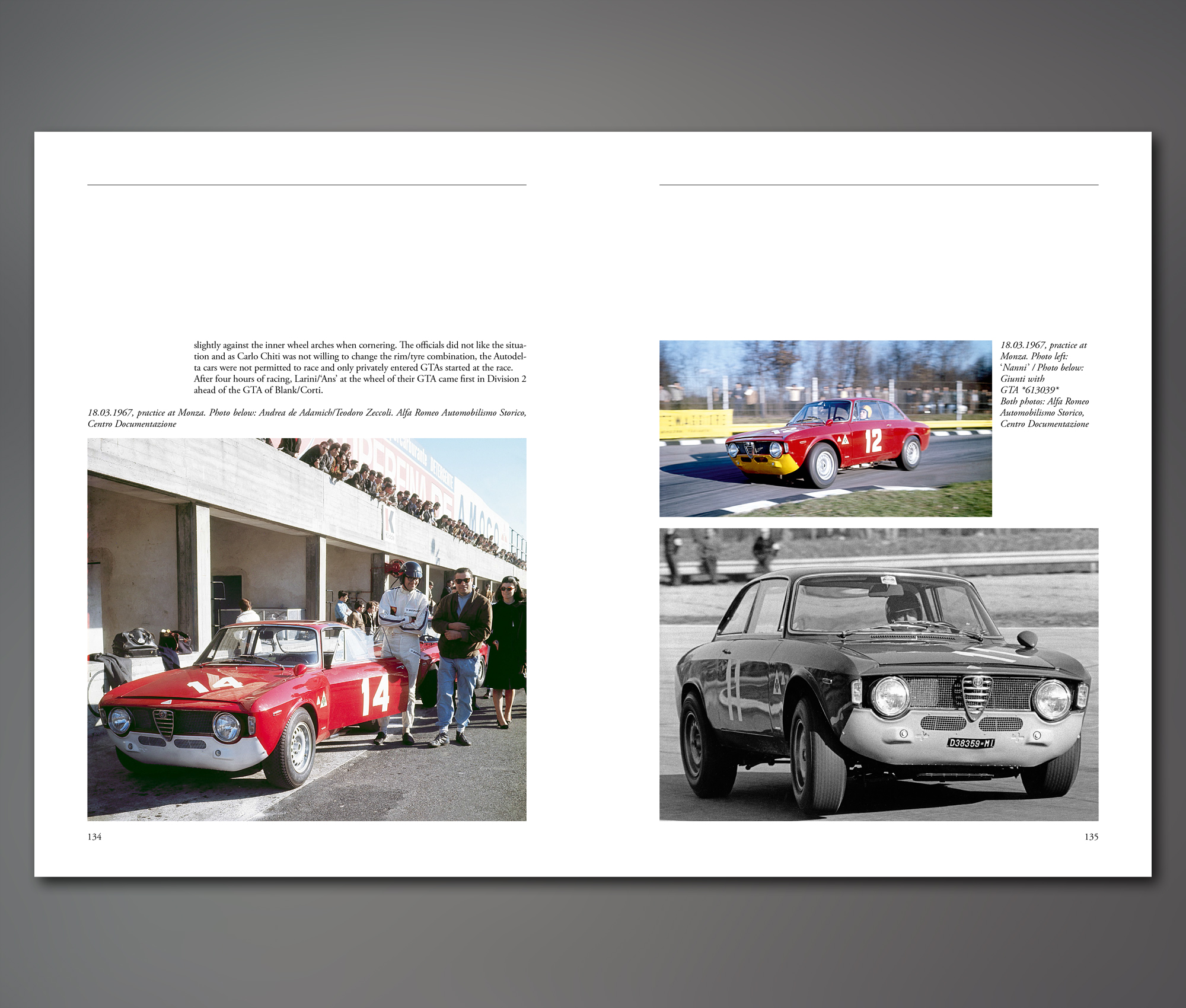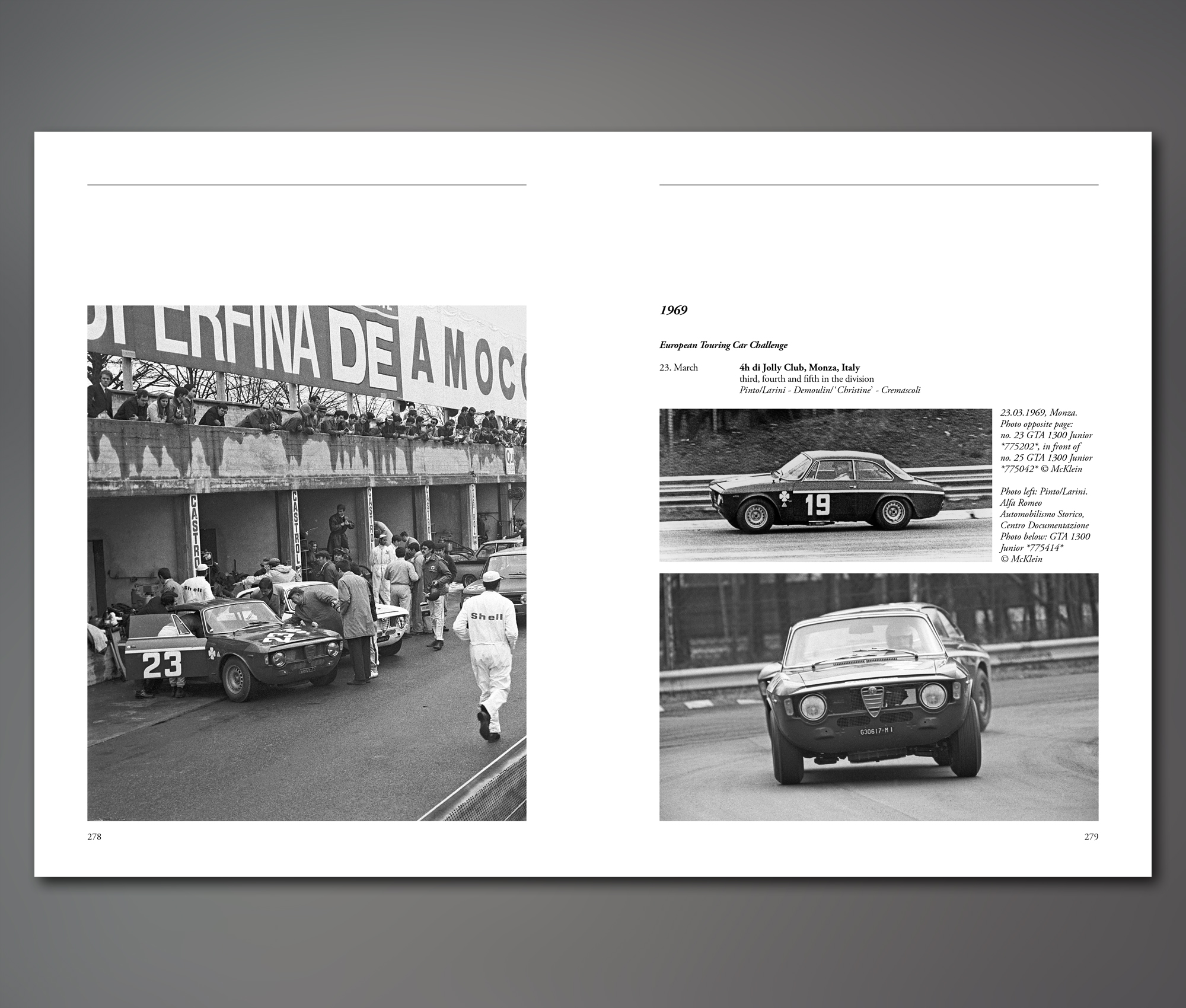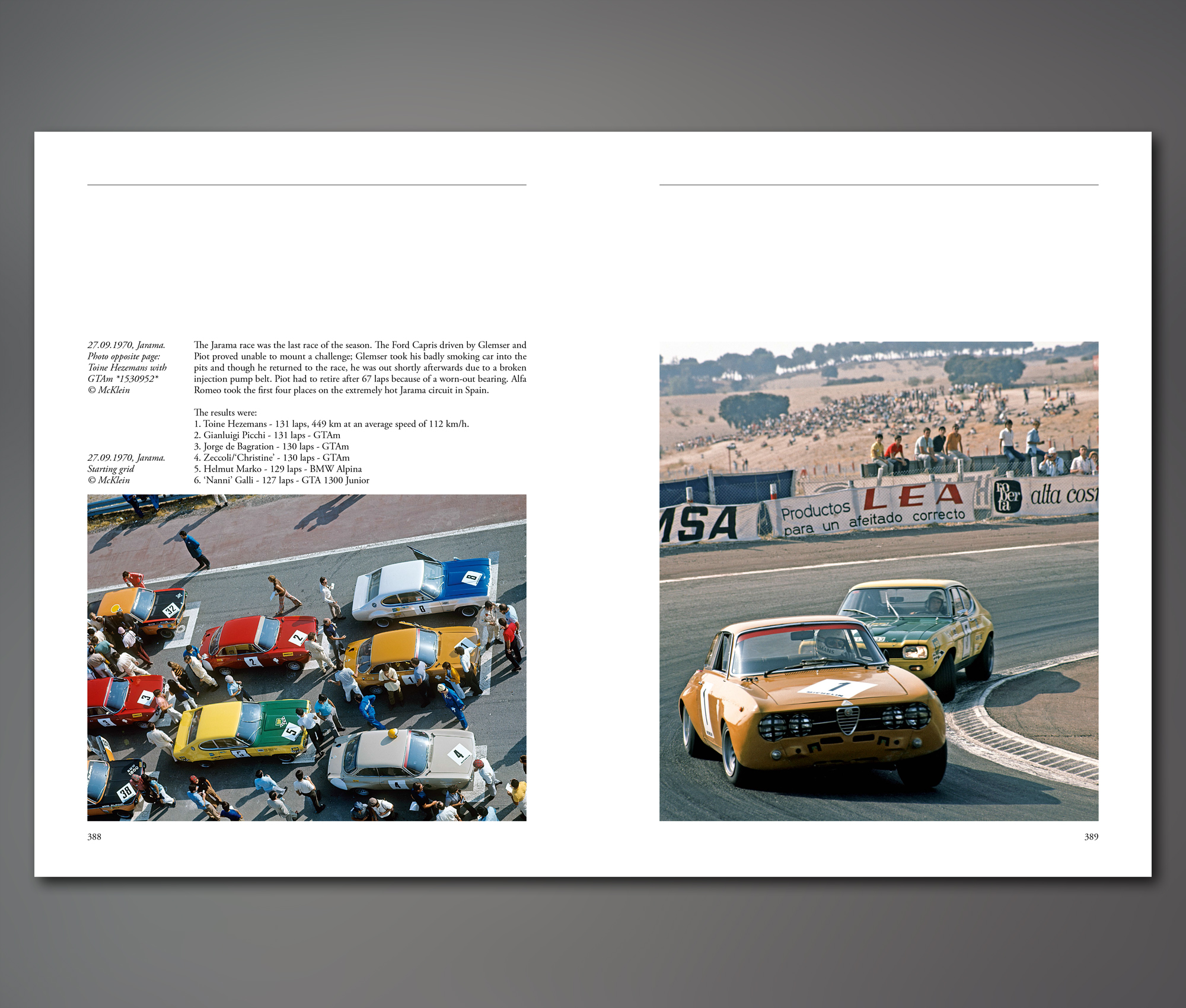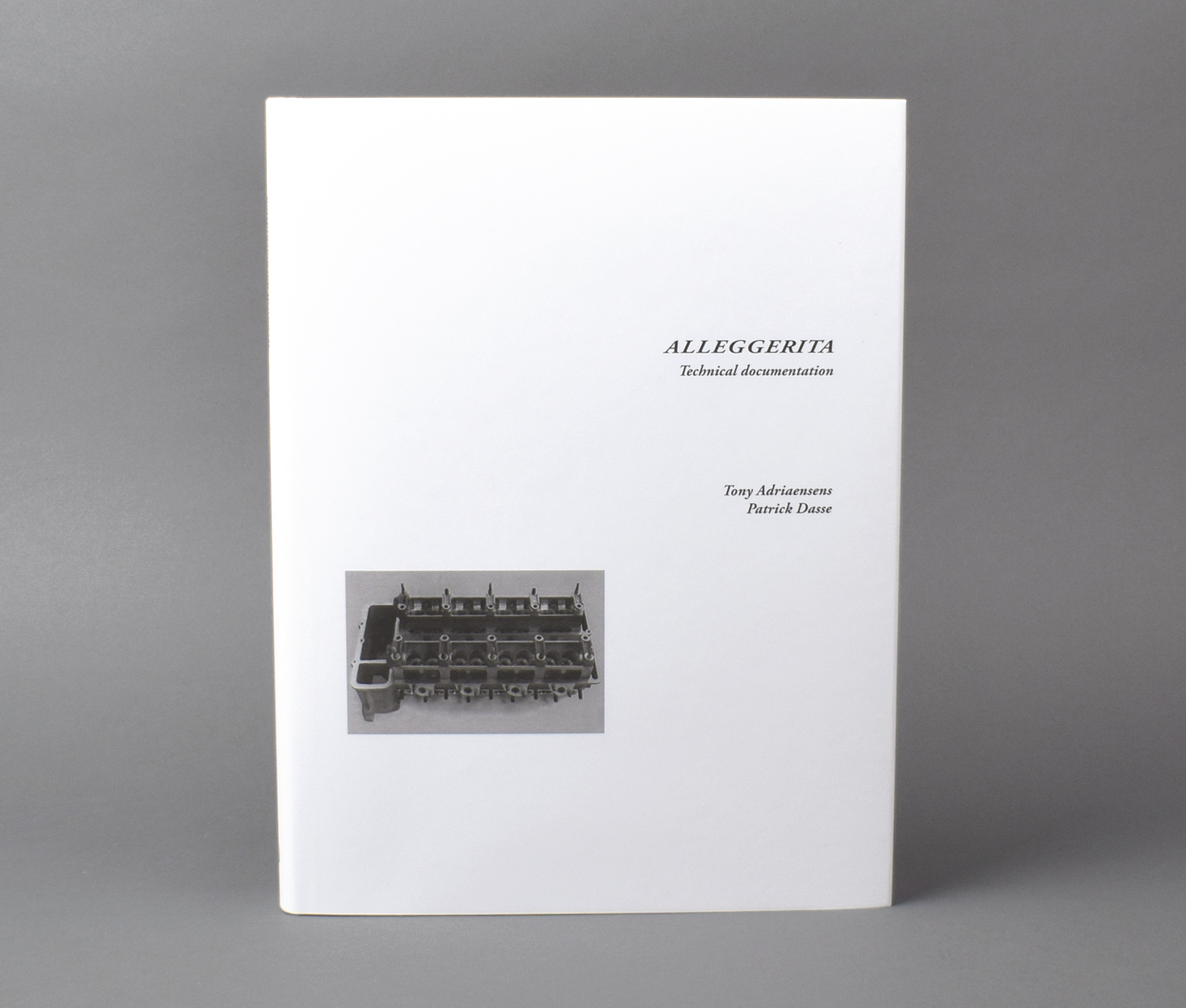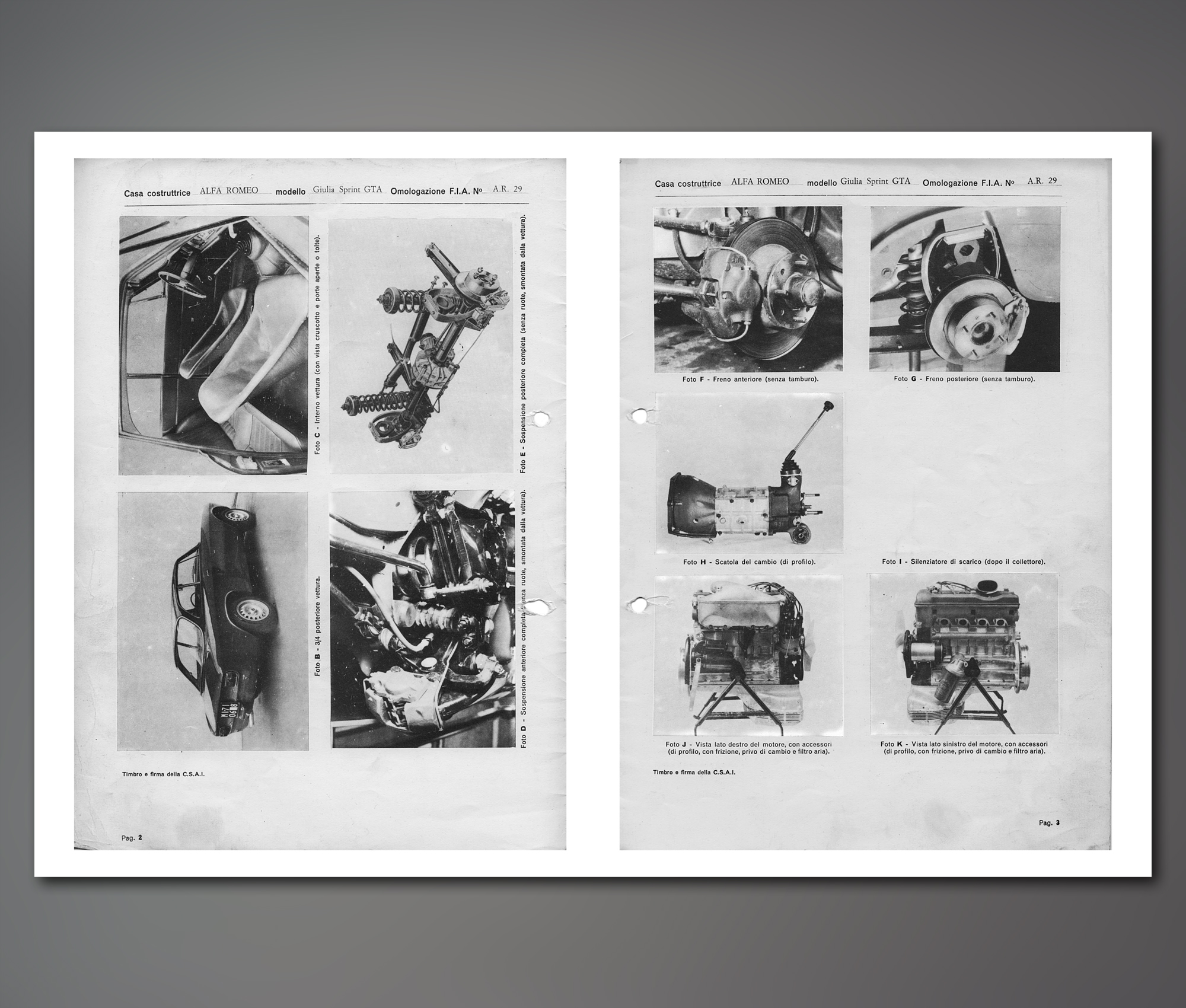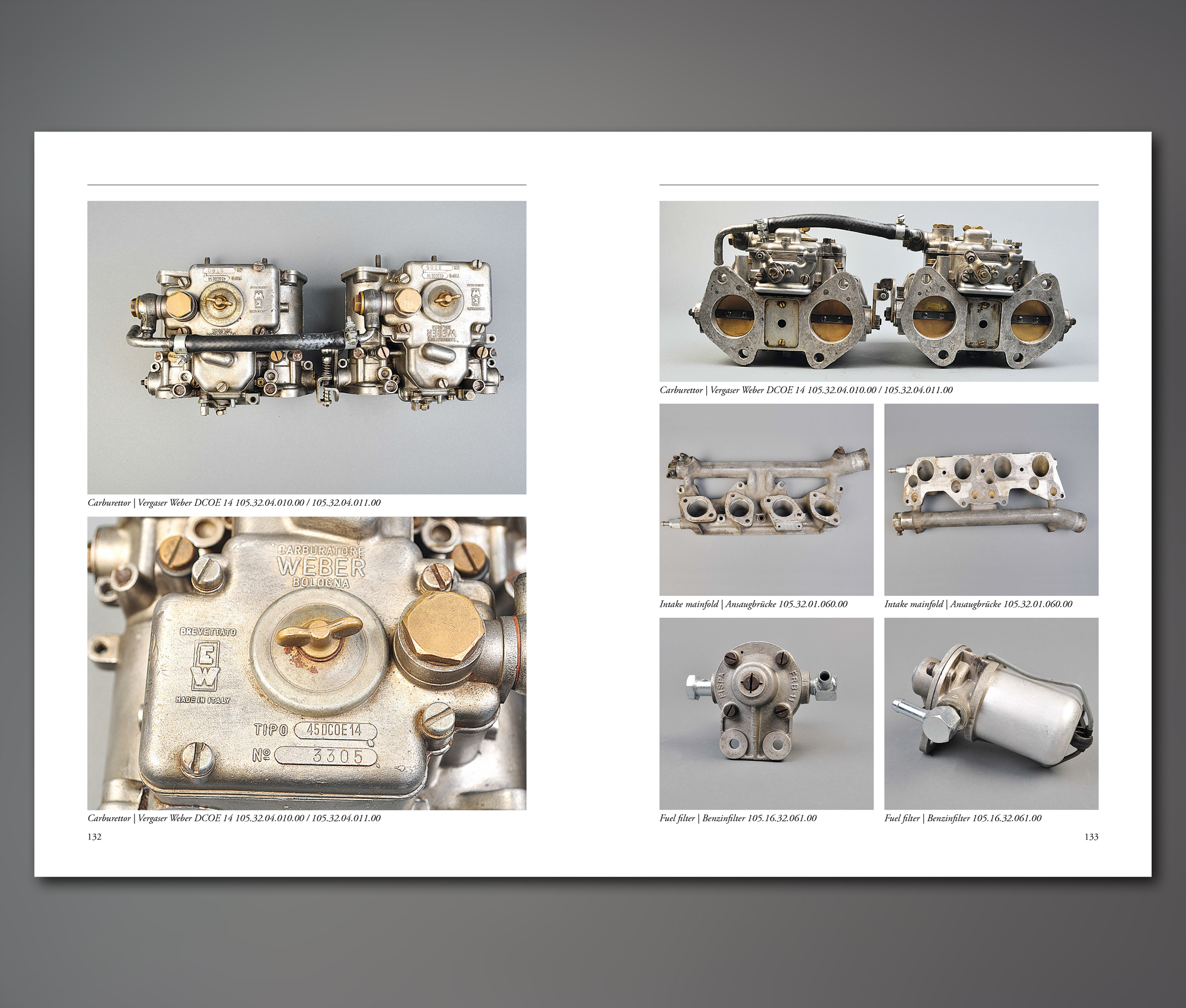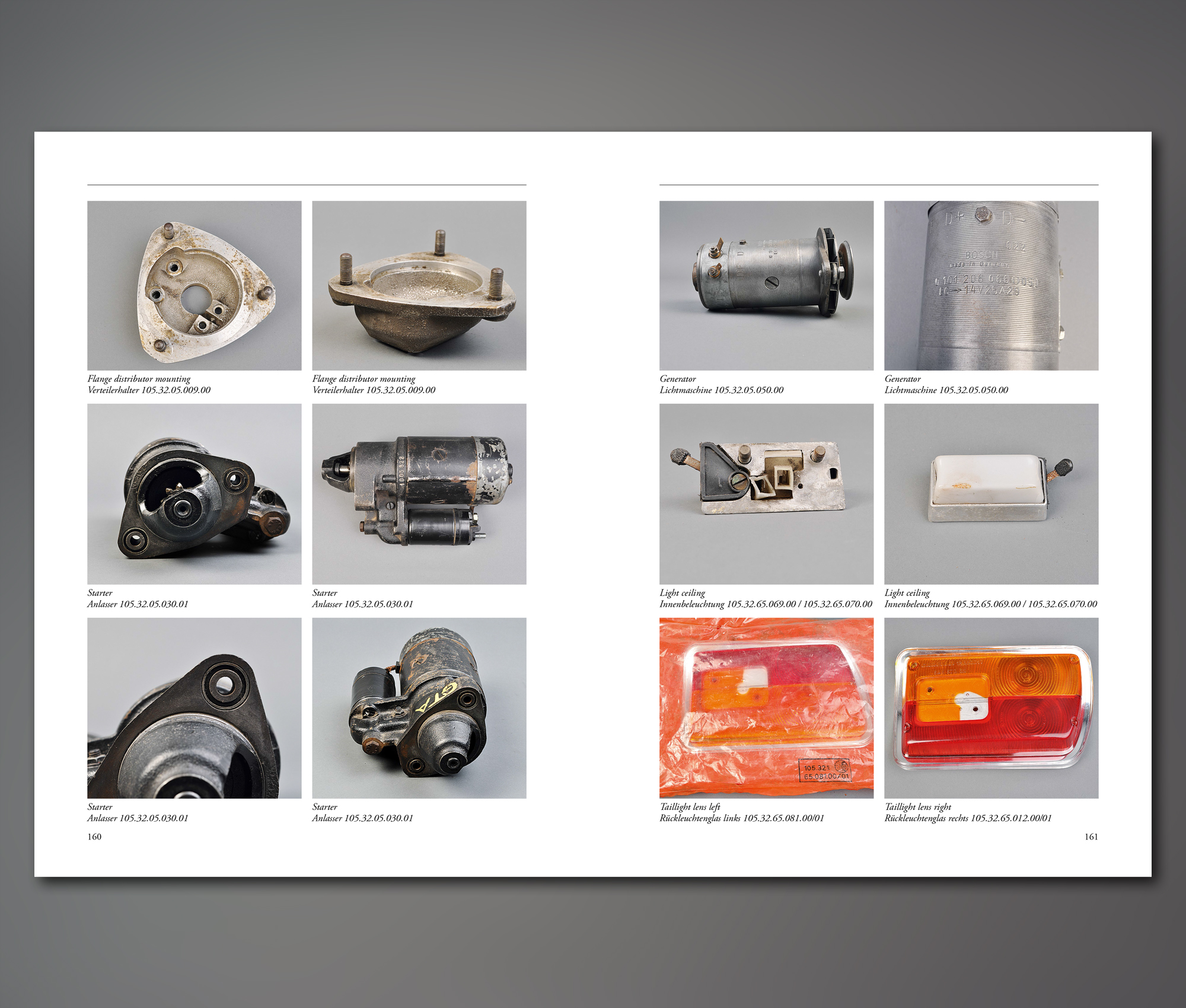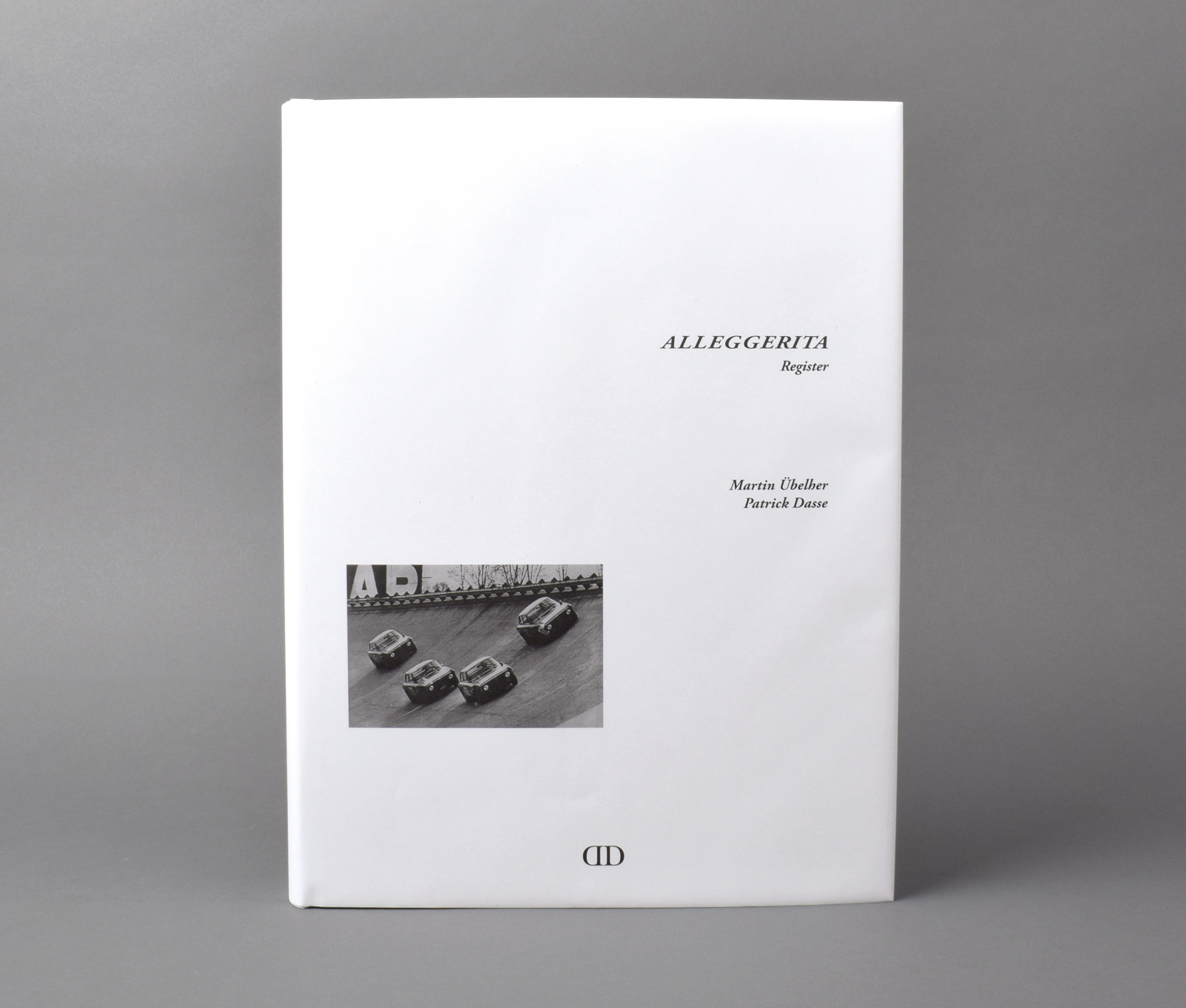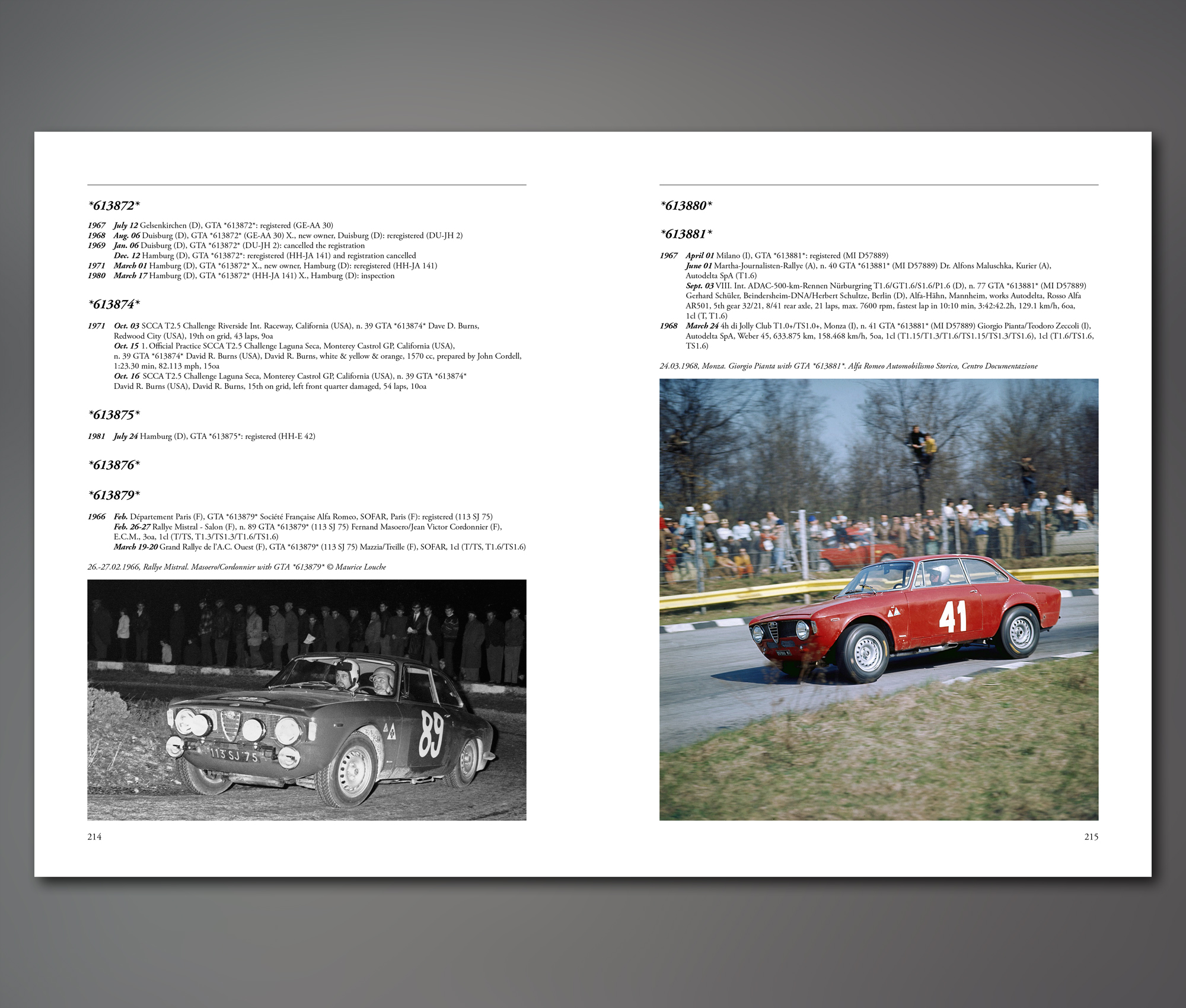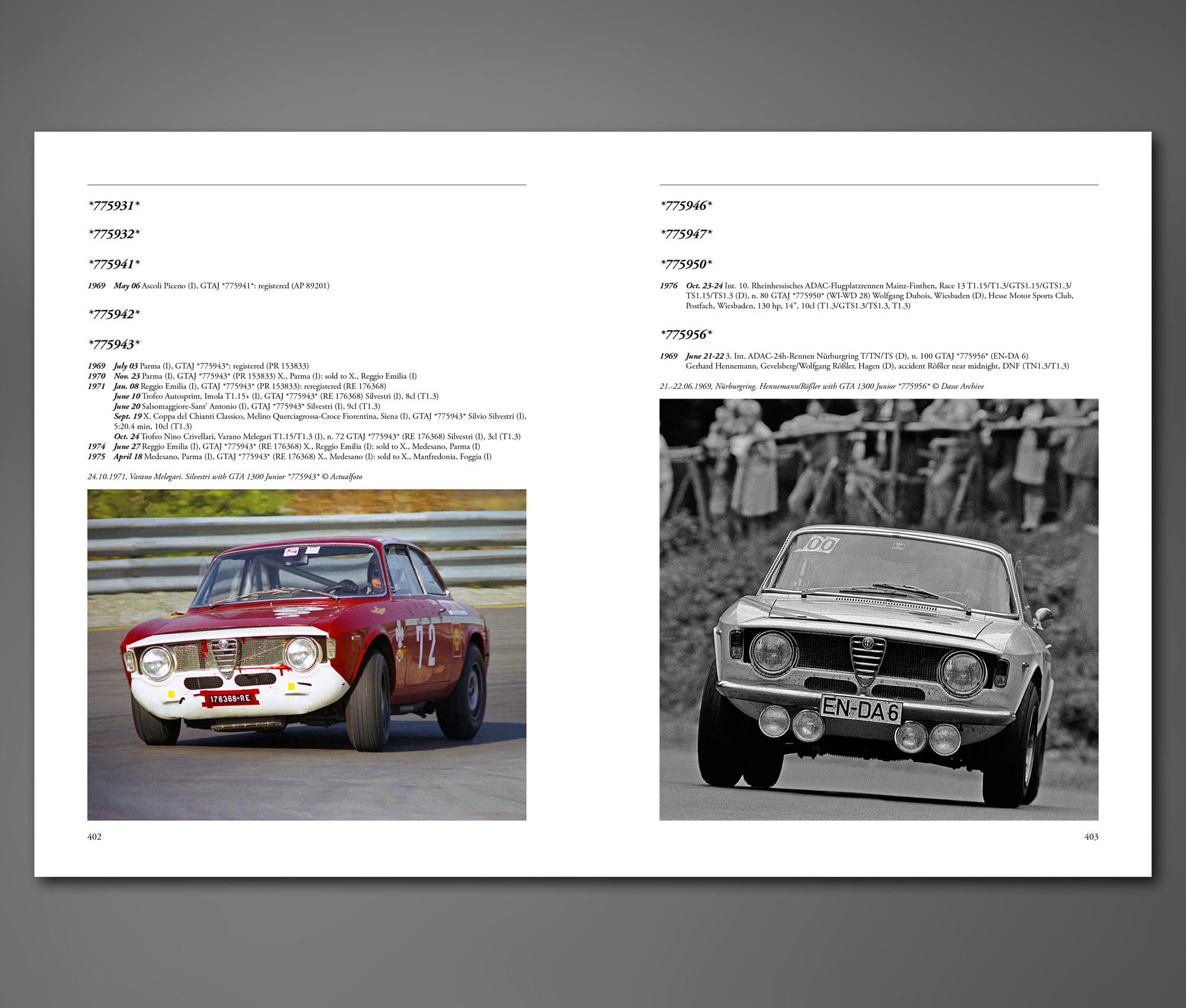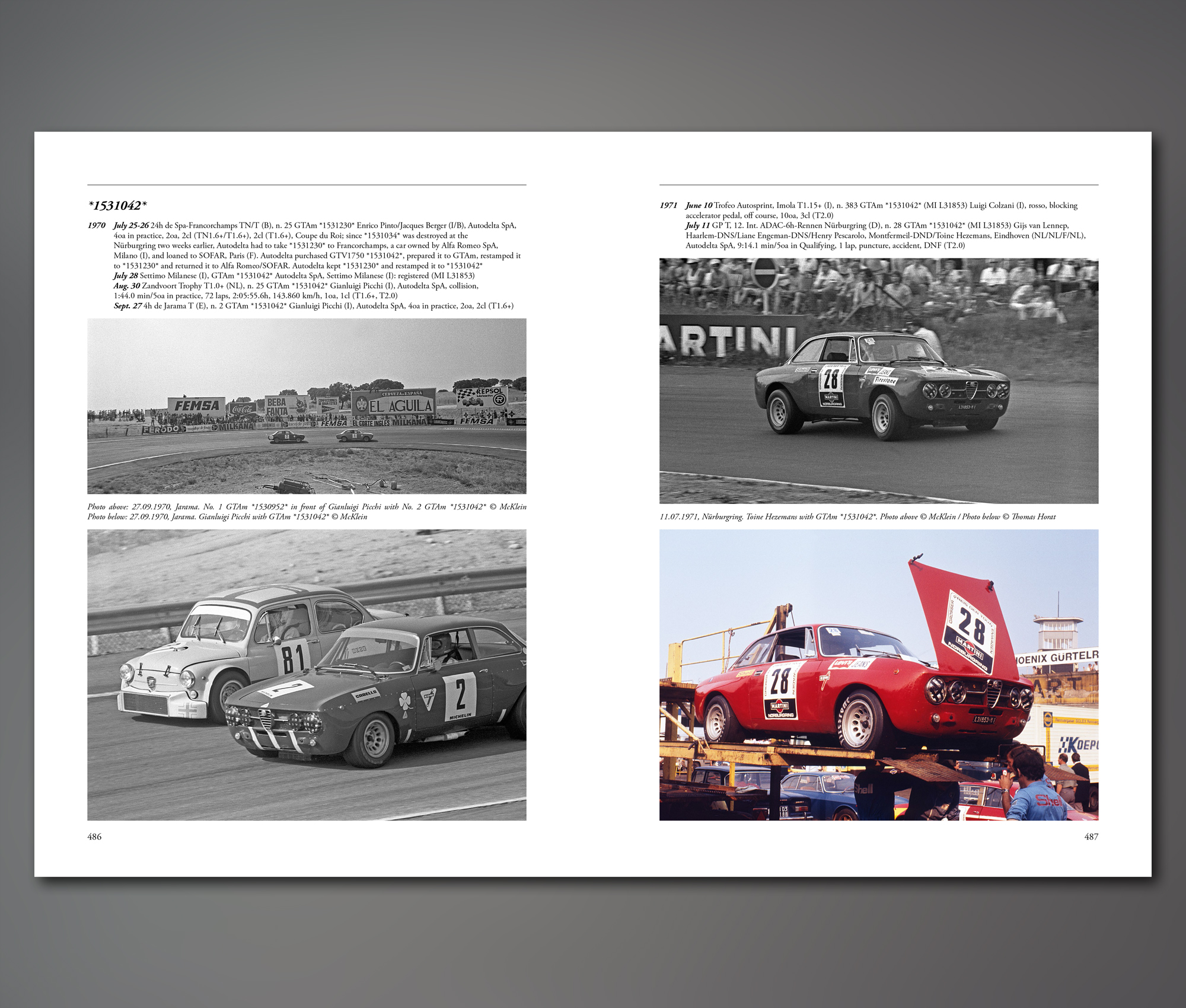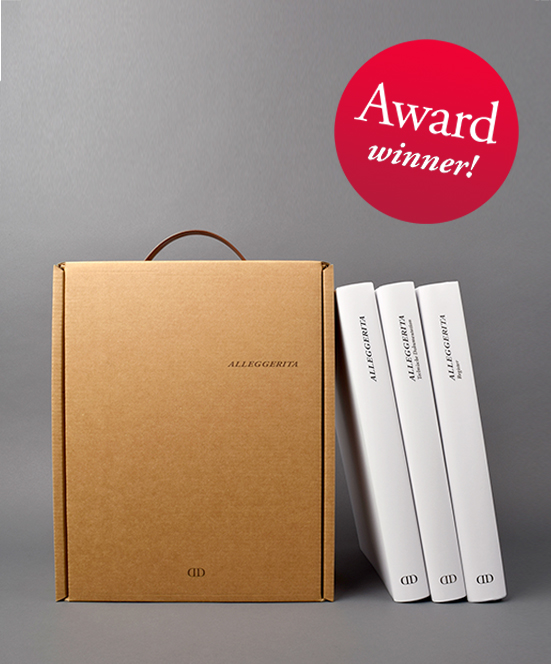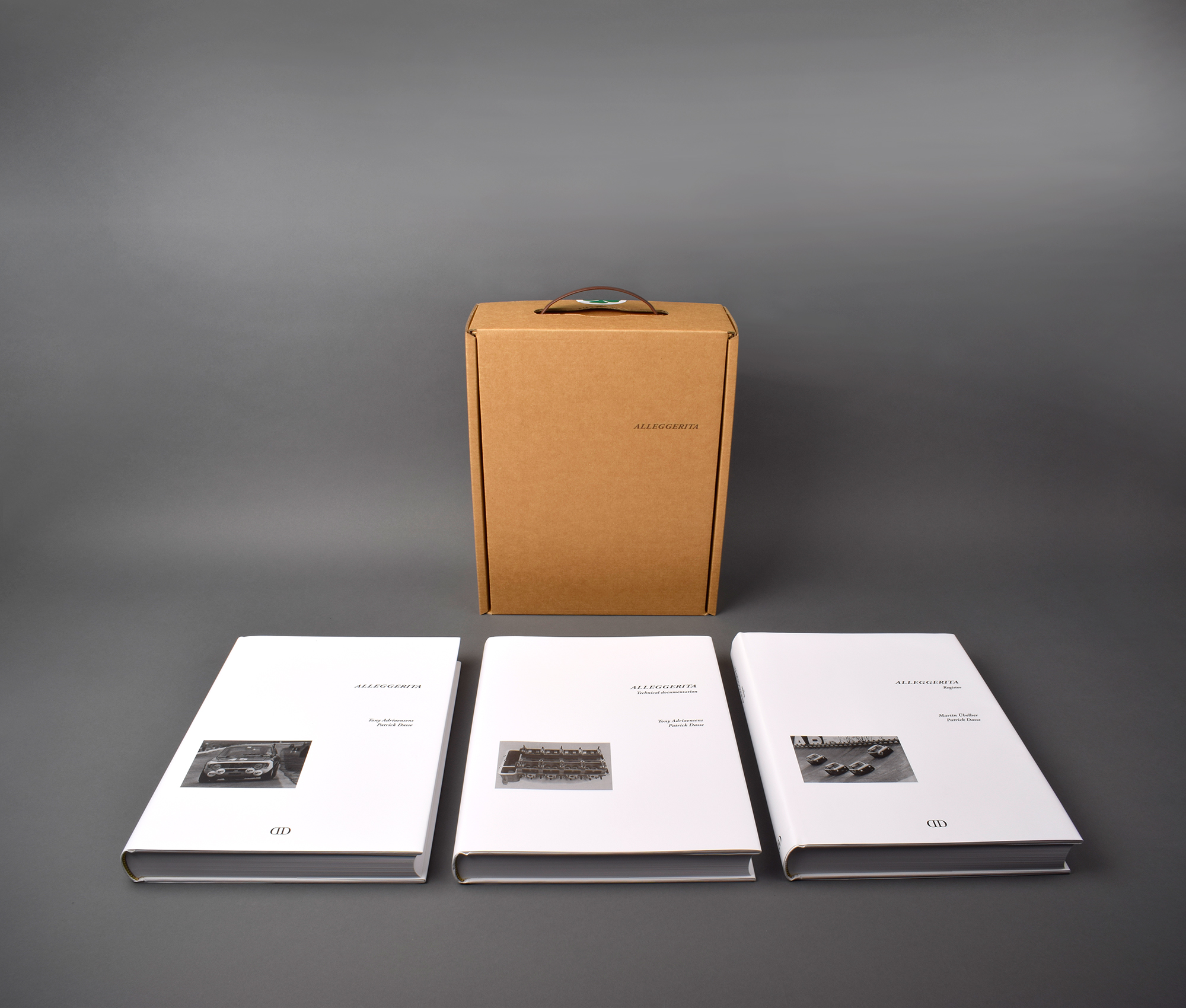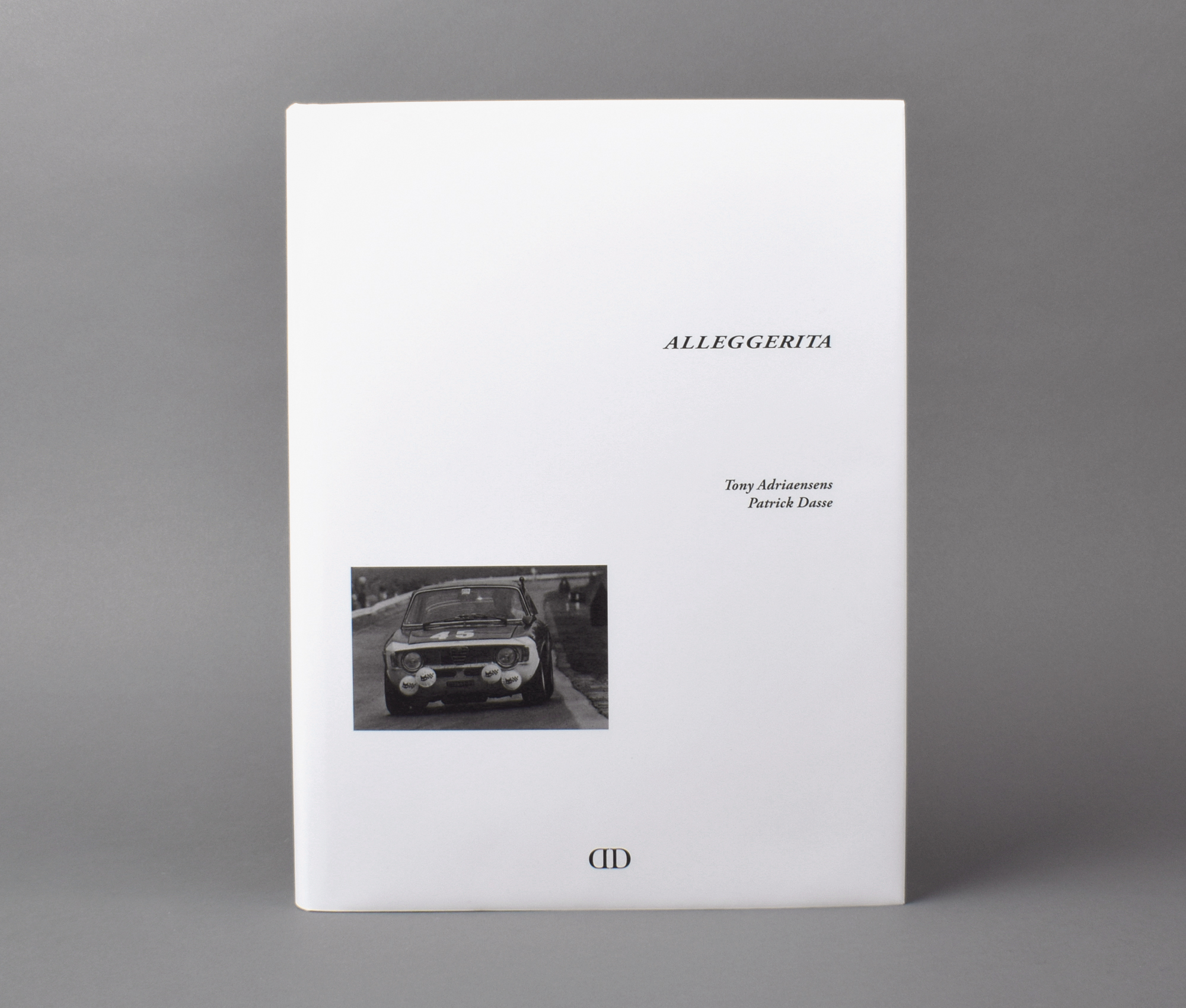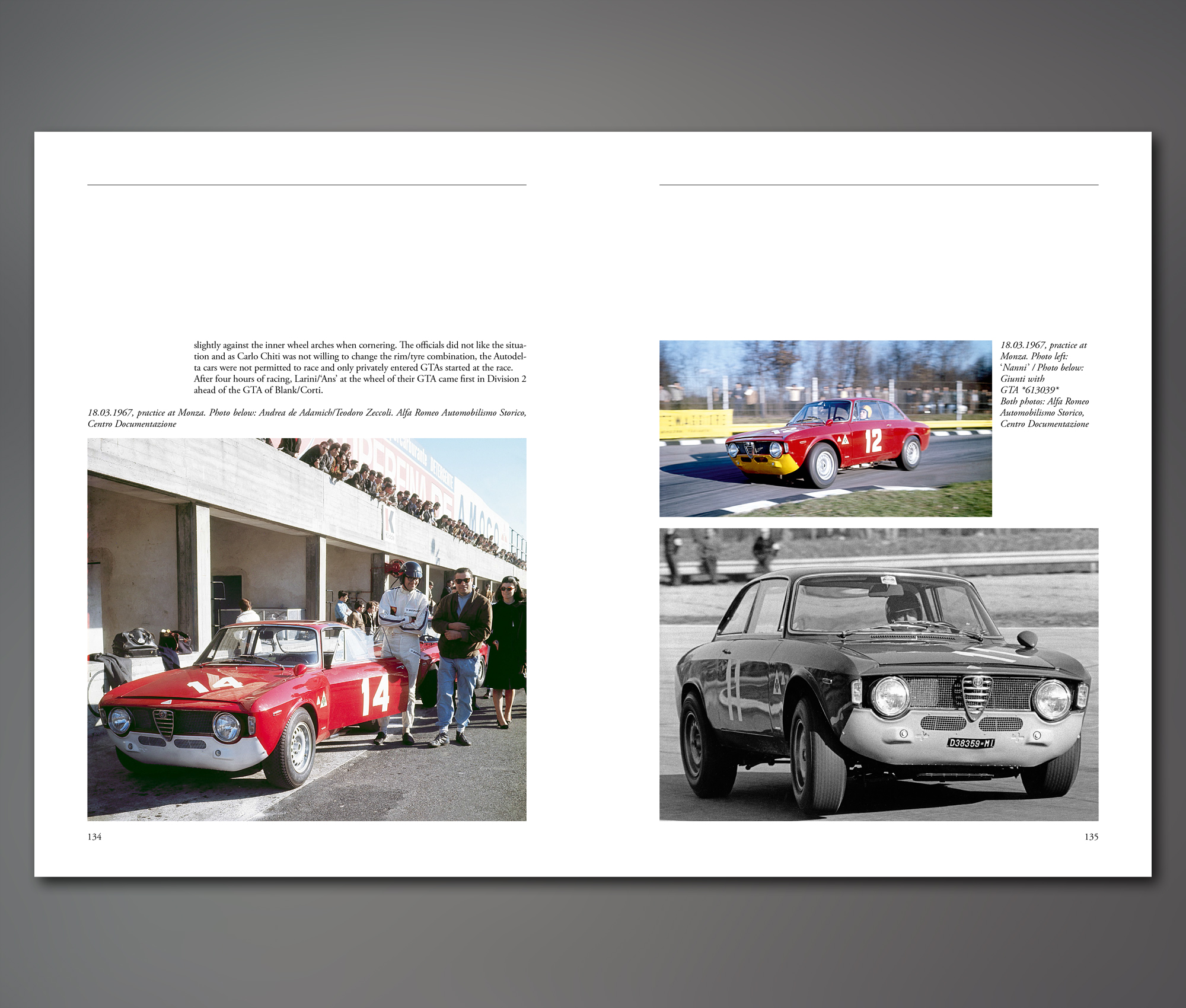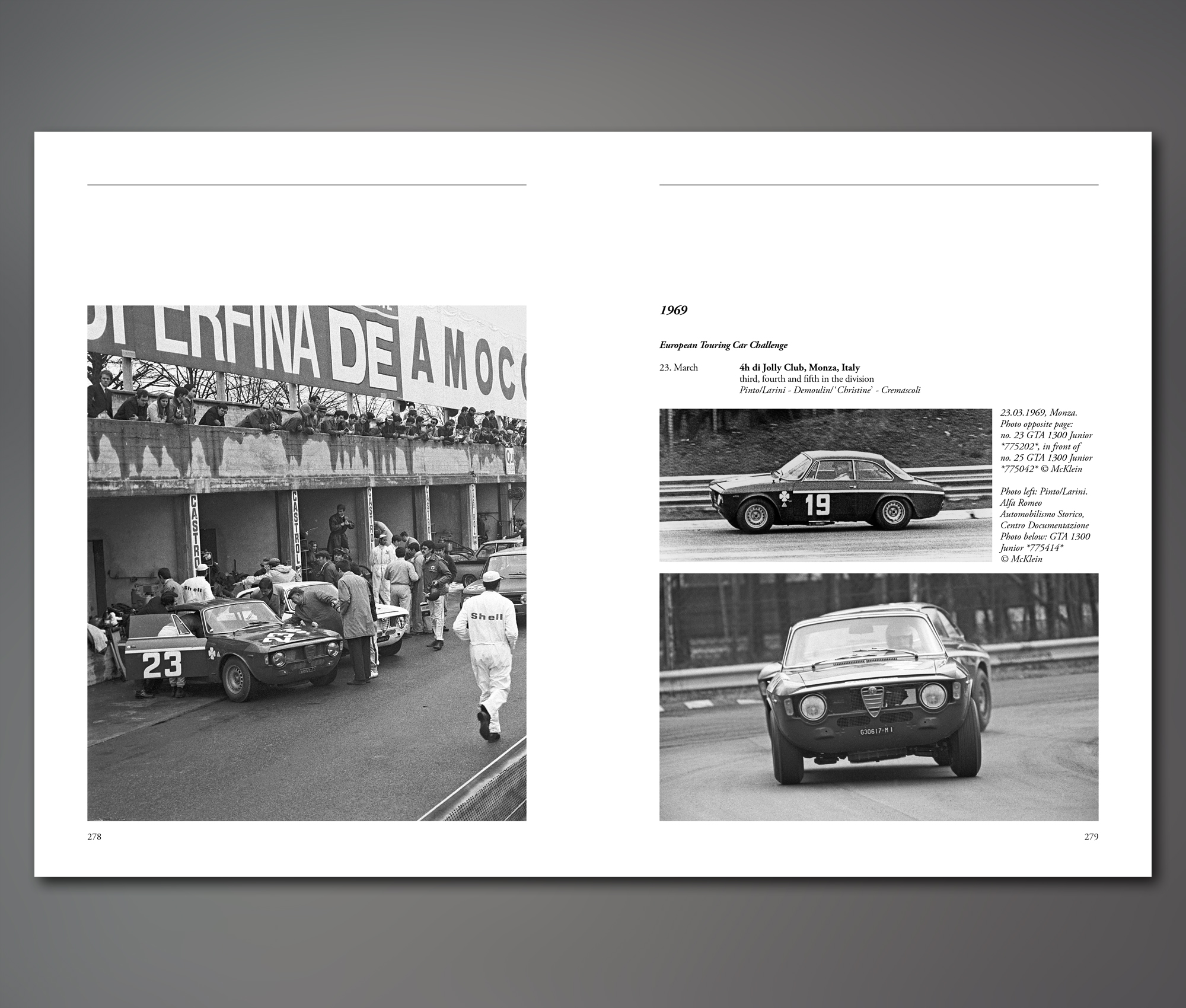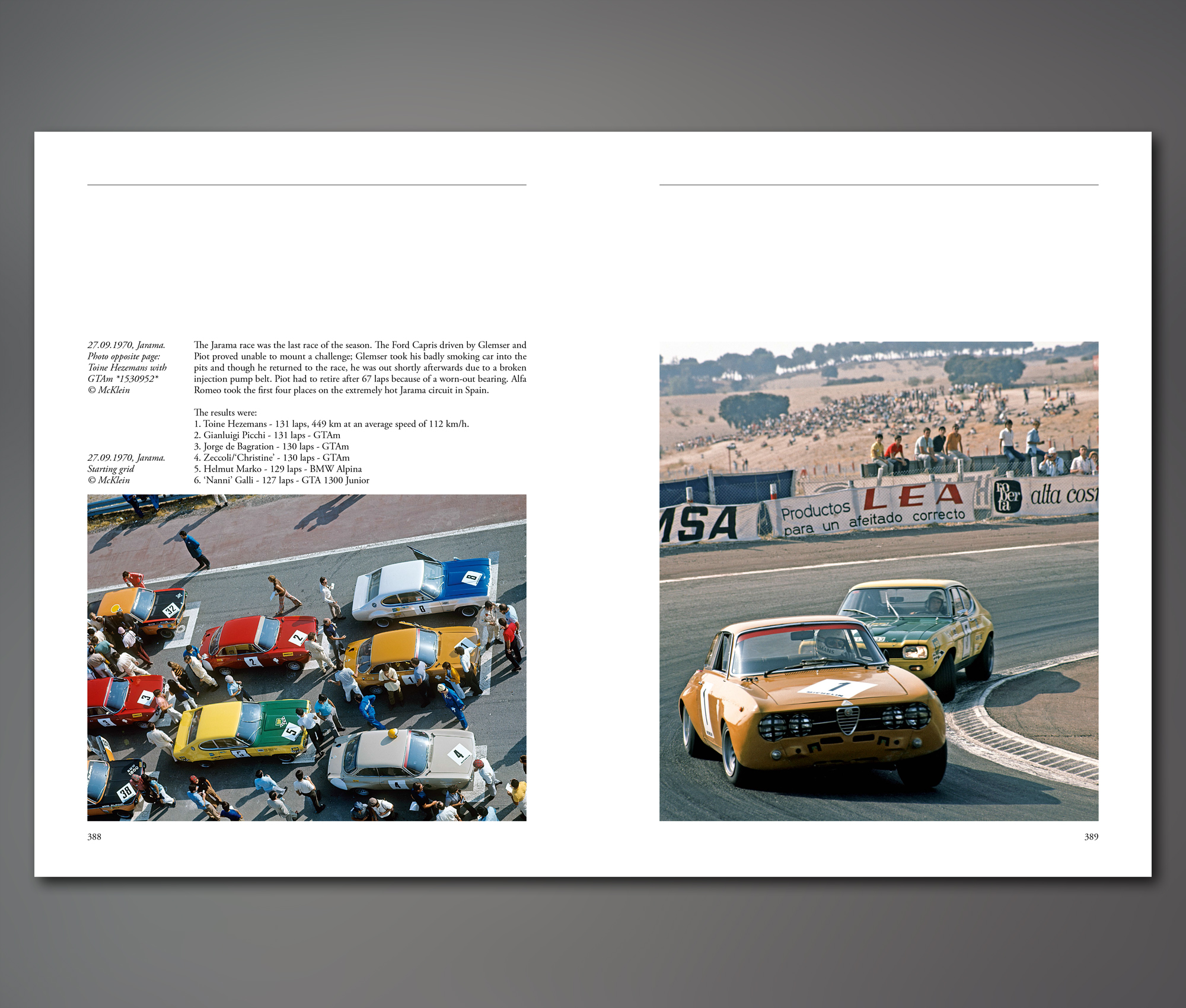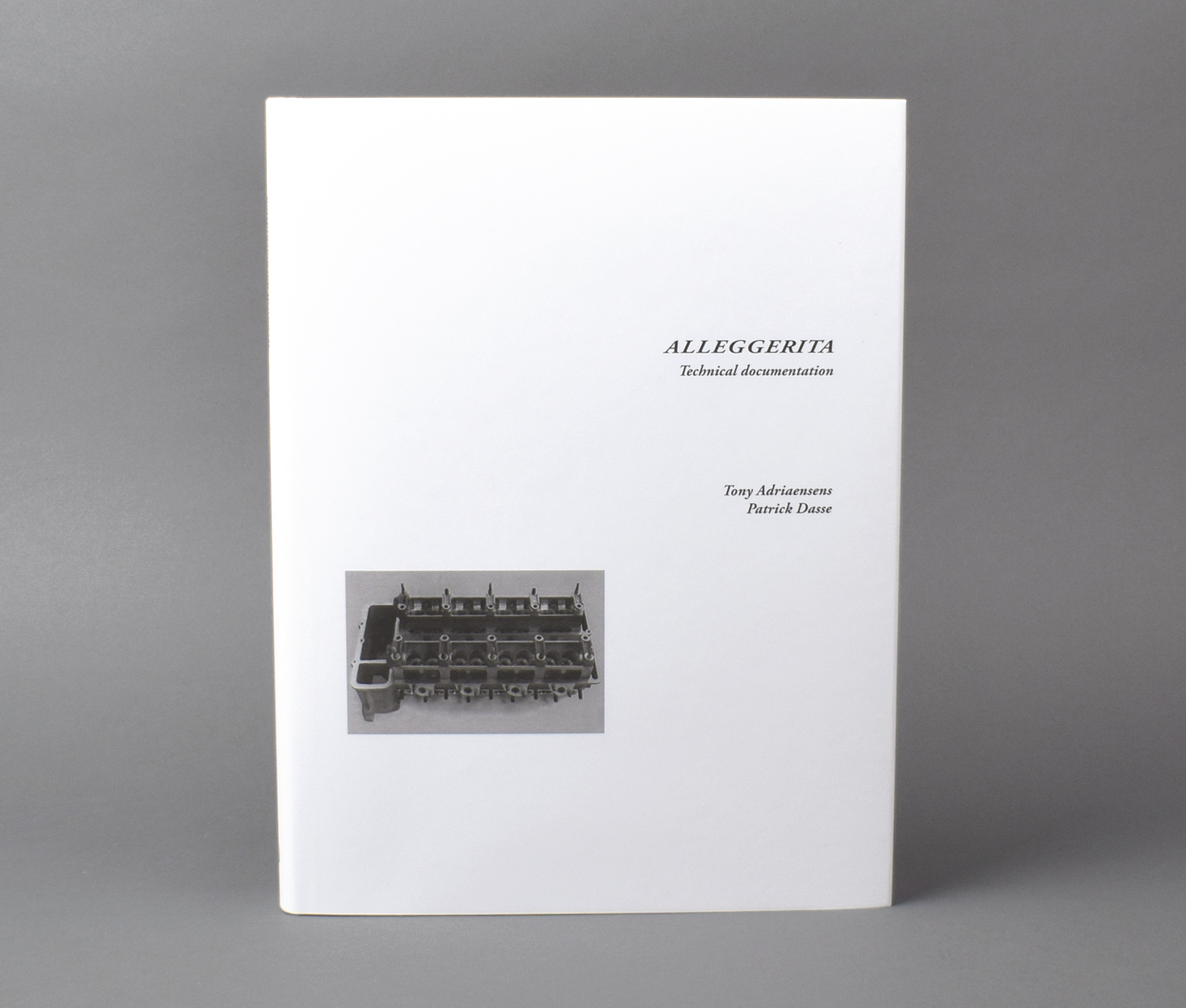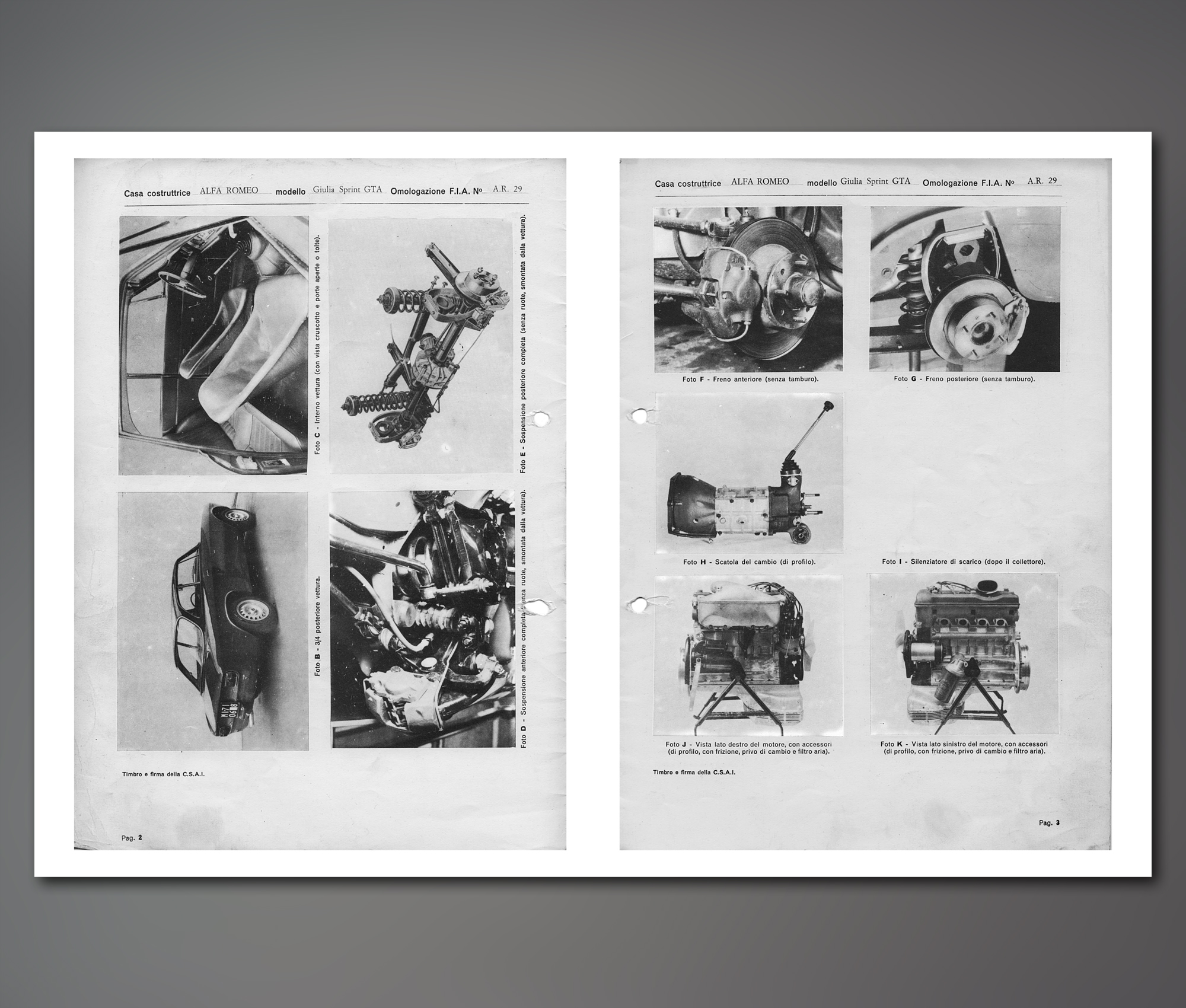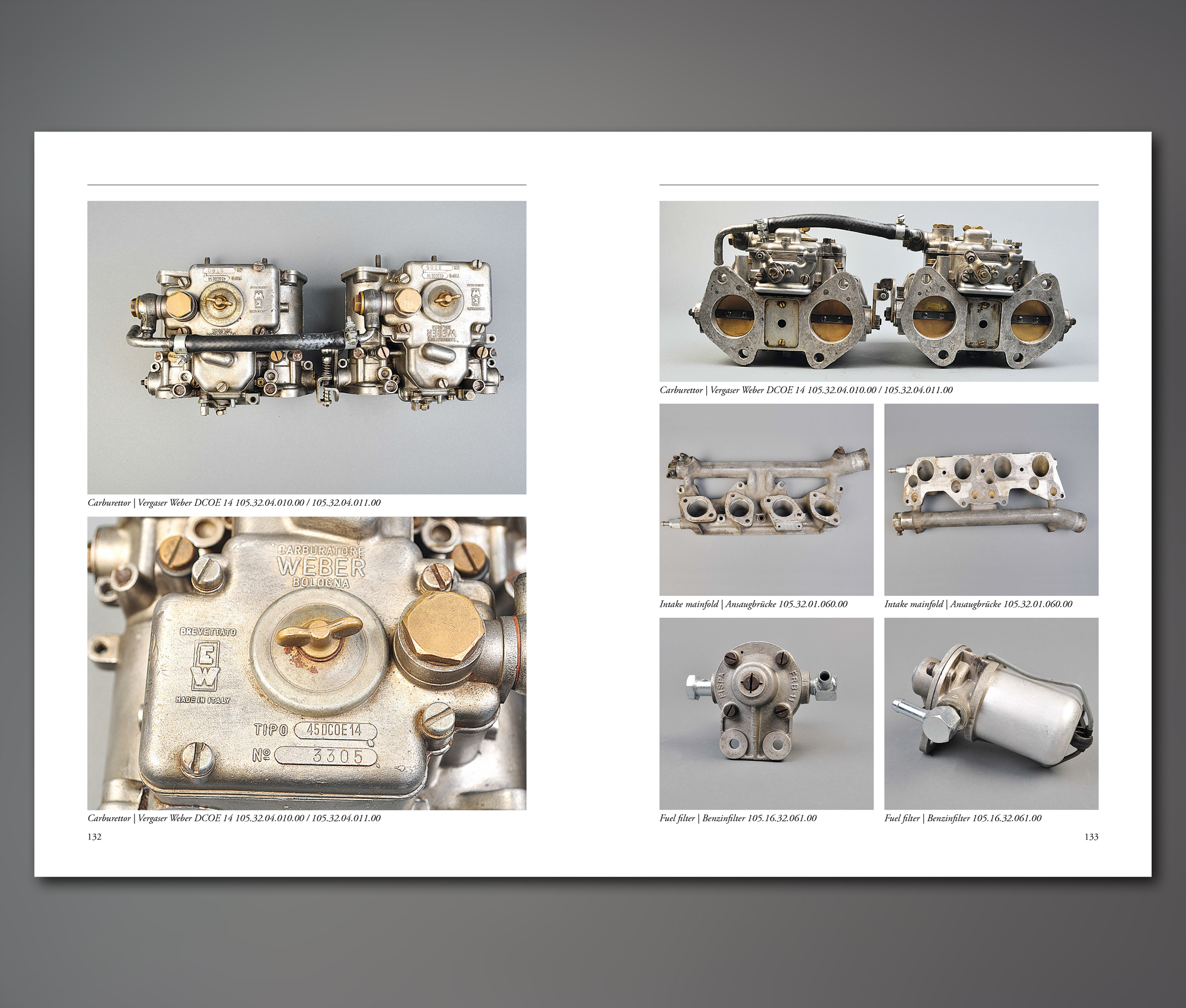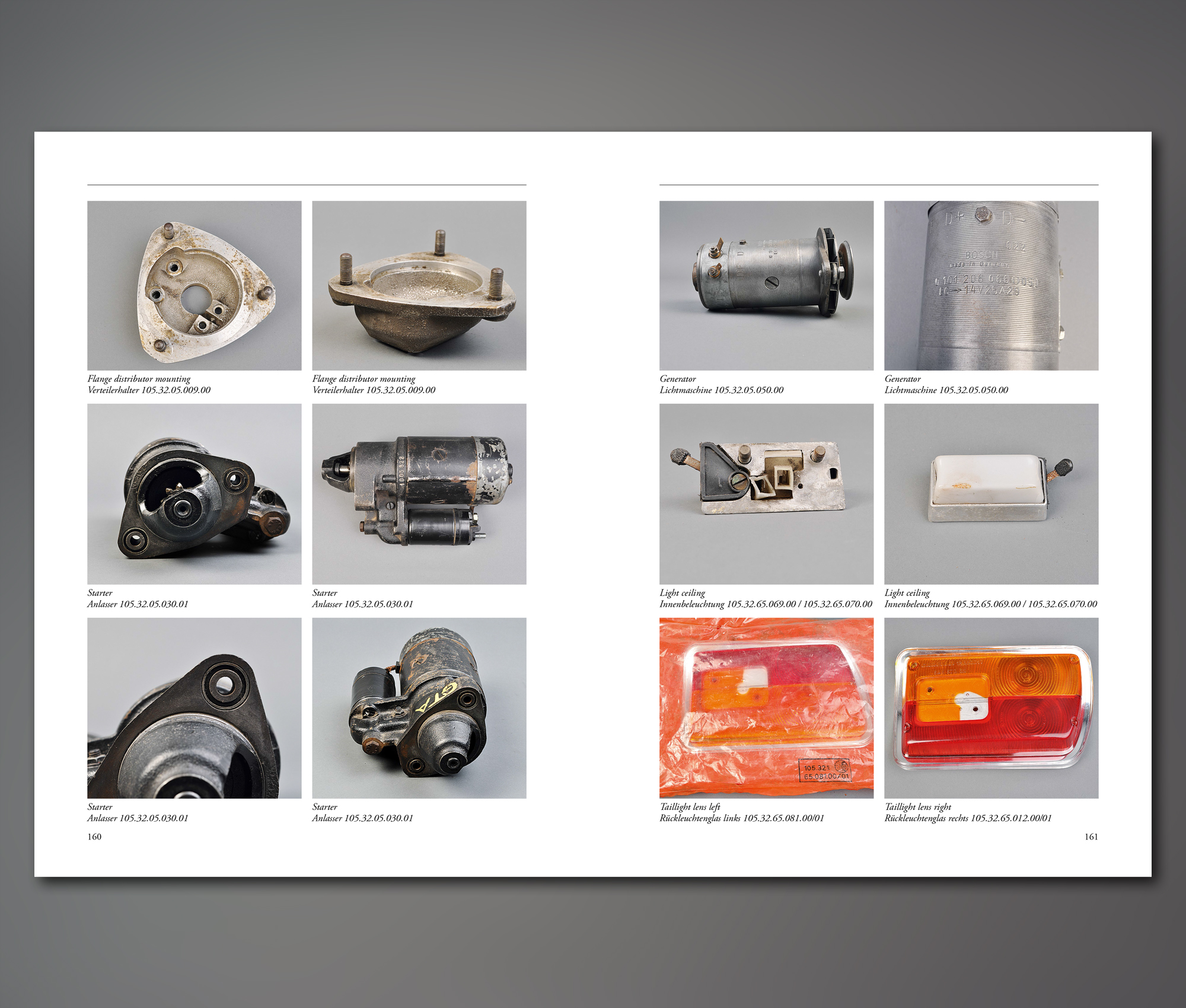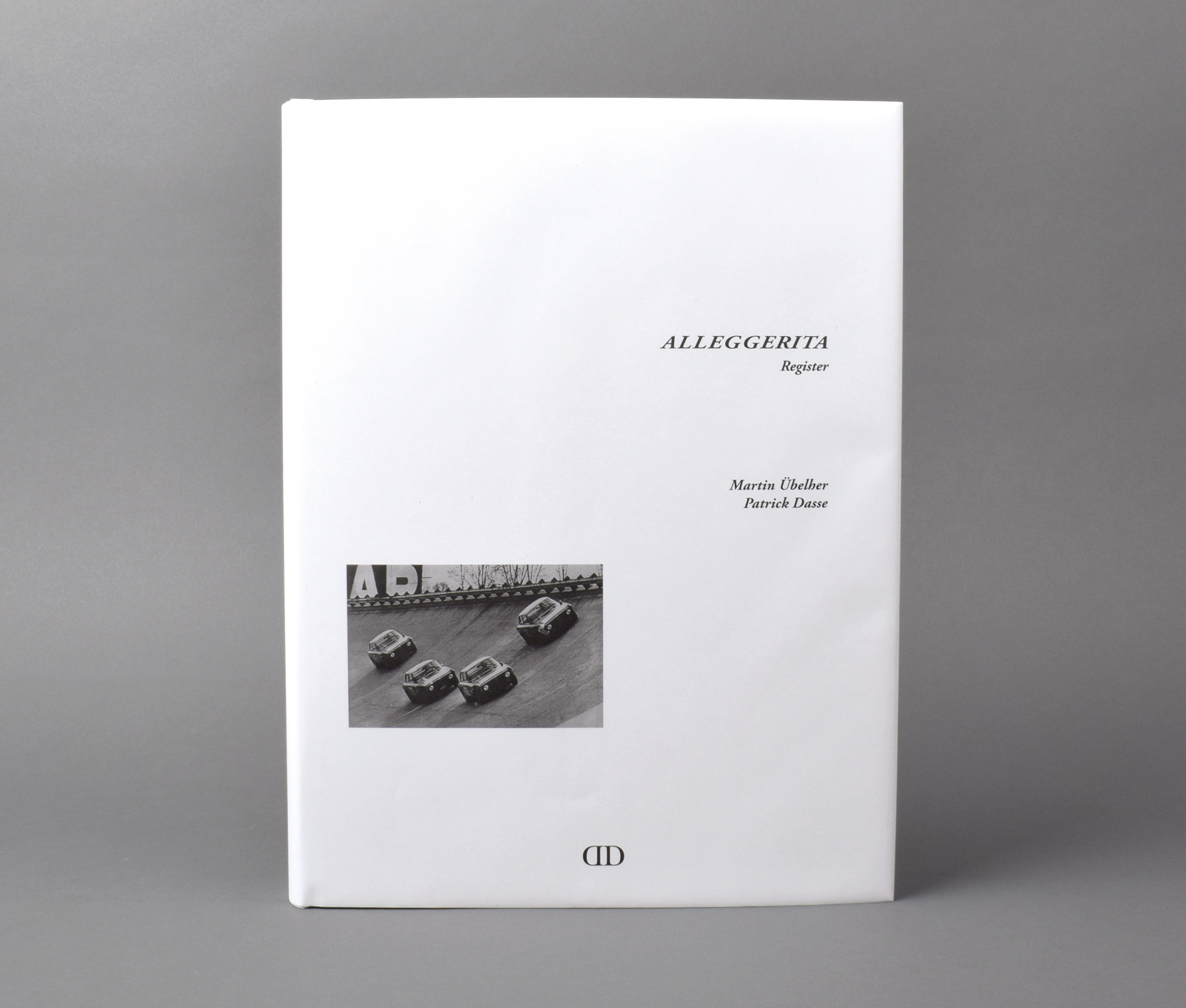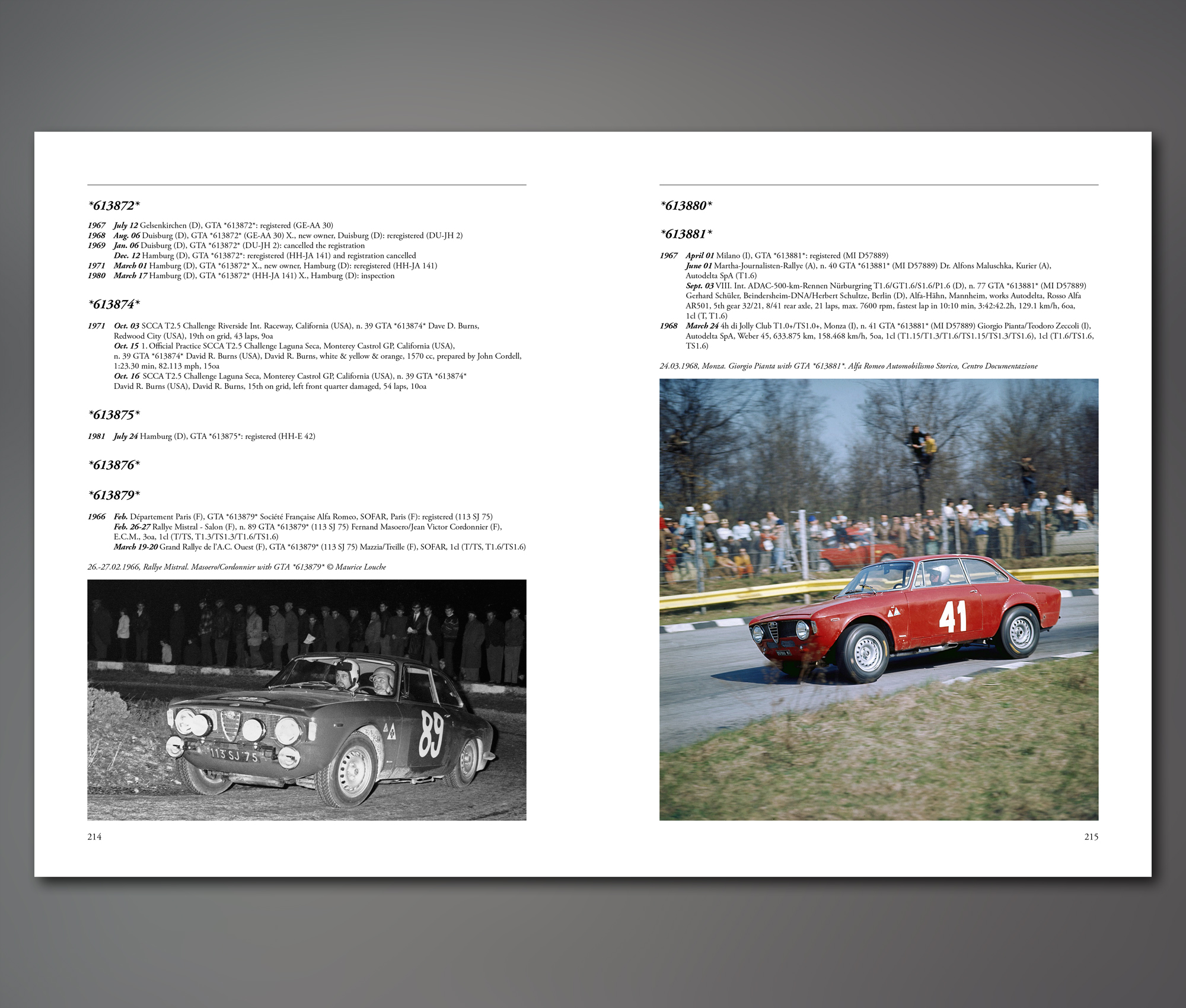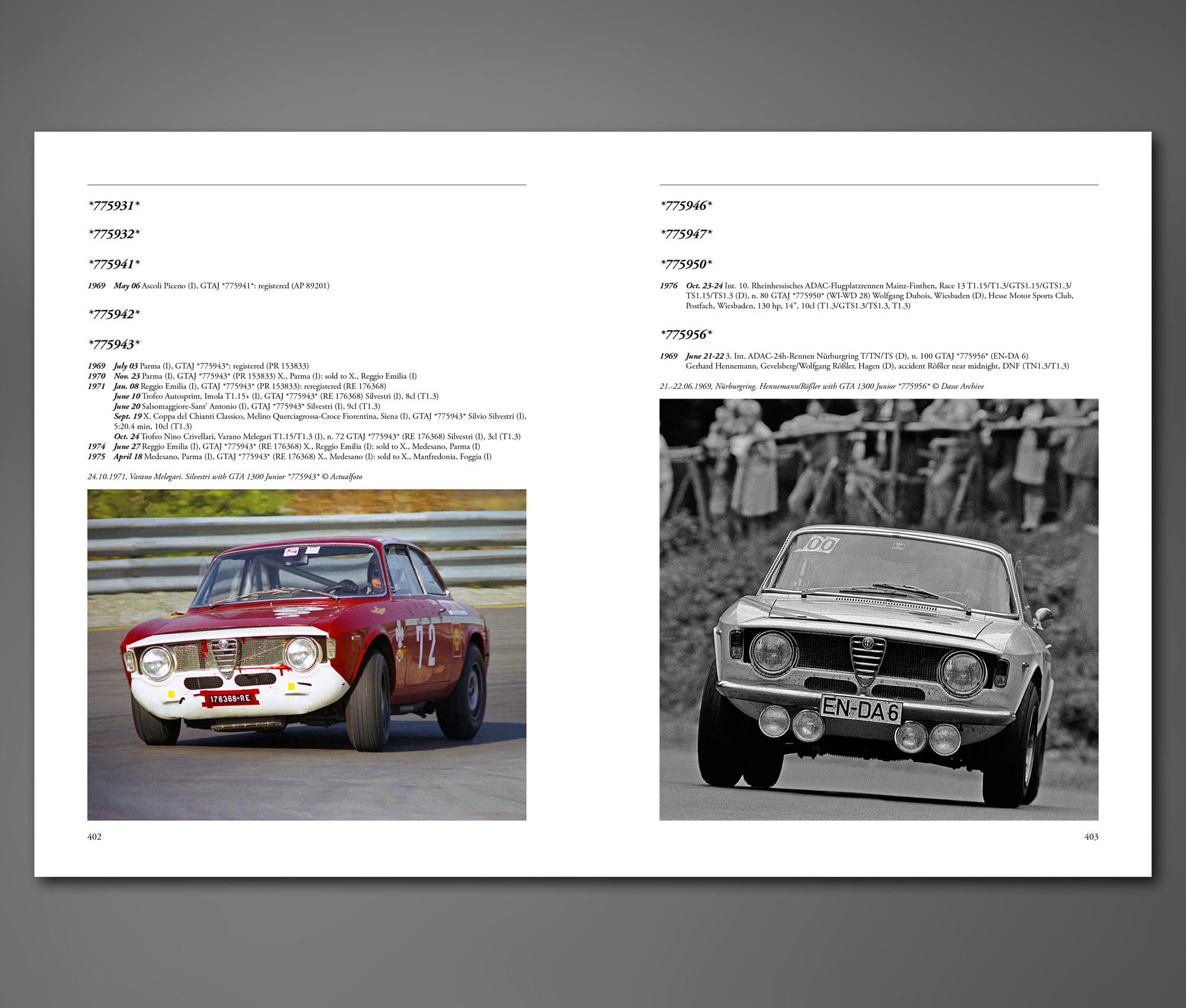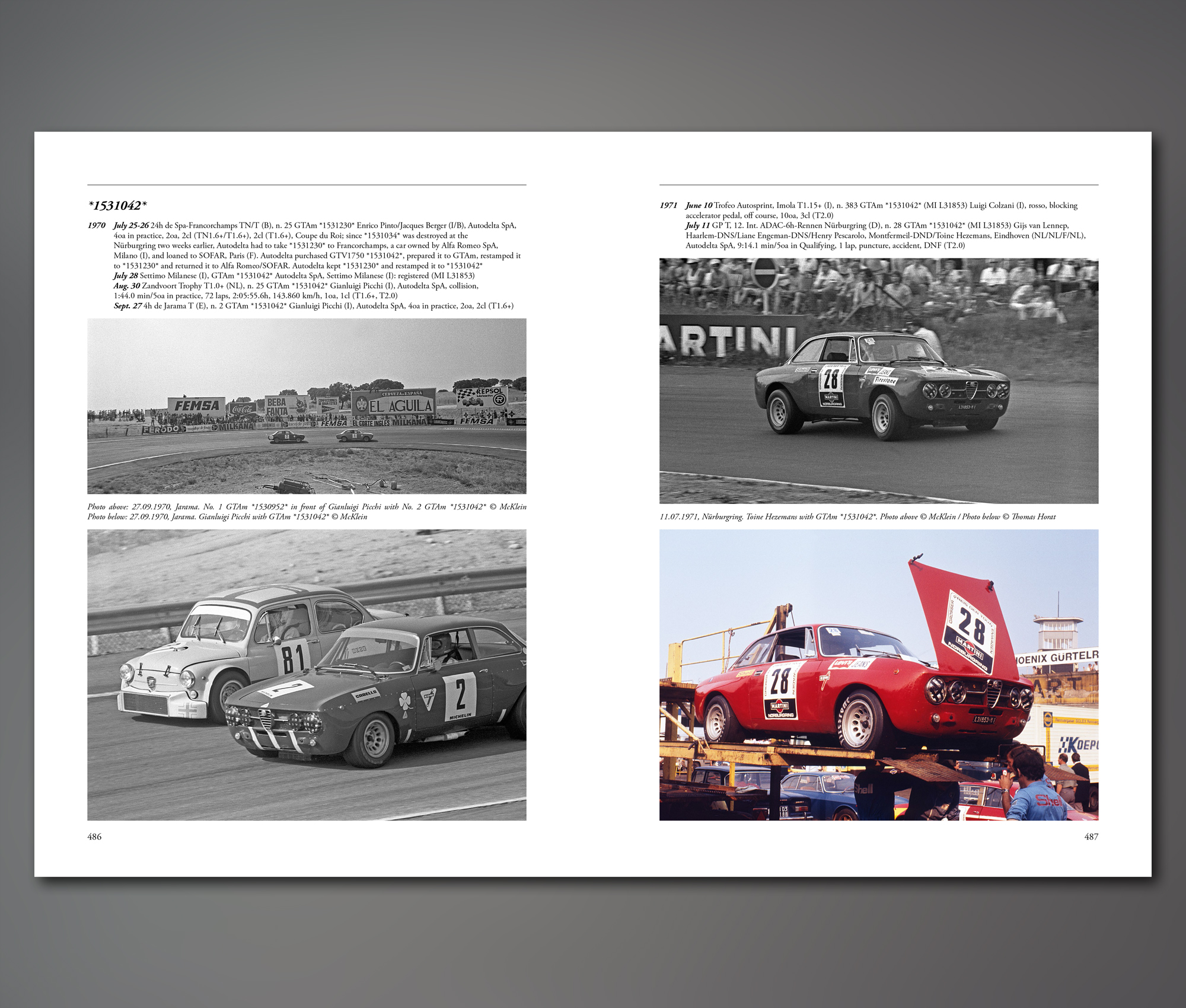 Available, delivery time: 2-5 days
Product information "Alleggerita (English edition)"
New and updated edition of Alleggerita by Tony Adriaensens, Patrick Dasse and Martin Übelher.
The box set includes three volumes with a total of 1456 pages:
Volume one, "Alleggerita", is about the evolution of the GTA / GTAJ / GTAm and the race history of the cars, focusing on the European Touring Car Challenge in which Autodelta predominantly participated. 
464 pages with 347 black and white photographs and 118 colour photographs.
Volume two, "Alleggerita – Technical documentation", includes the complete homologation papers of the TZ / Giulia TI Super / GTA / GTJ / GTAJ / GTAm as well as the original Alfa Romeo documents in English detailing the technical characteristics of the GTA and the GTA 1300 Junior. In addition to this we have added many photos of the original parts for these cars. 
464 pages with 708 colour photographs.
Volume three, "Alleggerita – Register", is a register of known and confirmed GTA / GTJ / GTAJ / GTAm cars. 
528 pages with 396 black and white photographs and 125 colour photographs.
The English edition is a limited edition of 3000 box sets. The book will be delivered numbered from 0001 to 3000. Books corresponding to edition numbers to the GTA / GTAJ / GTAm VIN numbers will be reserved for the owners of the cars!
Size: 28,6 x 21,6 cm
Weight: 8,7 kg
Author: Tony Adriaensens, Patrick Dasse & Martin Übelher
ISBN 978-3-87166-065-8
Free shipping within Germany.
ADAC Motorwelt Automotive Award Winner in the category »Special Prize« 2013
Link to article ADAC Motorwelt
REVIEWS 
speedreaders.info (US), April 2020, by Sabu Advani  
Alleggerita 

»The fellow who said that would know. He is the ex-Alfa Romeo racing car and engine designer who had taken Ferrari to an F1 championship but left in "the great walkout" of 1961 to launch ATS, then co-founded Autodelta which would become Alfa's official sports division. First impressions: what could this book possibly be about??
Not having a subtitle doesn't help. Is this book even trying to shine a light on itself? Is it only for the initiated, the insiders, the geeks, the code-breakers? Even if you recognize the title as Italian, and possibly even know what it means ("lightened"), would you have been able to deduce that this book is about the Alfa Romeo GTA? You know what the "GT" stands for, but did you know the "A" comes from alleggerita?
This book is also about the GTAJ and the GTAm and, at least peripherally, about the Giulia TZ and TI and TI Super and the Sprint GT. In other words, everything GTA. Well, the GTA of old—Alfa Romeo has just announced a 2021 version of the GTA and GTAm (m as in modified, as in extra-extra quick). So, whether you have an old GTA or an eye on the new one, this book will be a useful compendium. 
Well, it can be, if you work for it. There is no Table of Contents, no Index, no easy path to find anything a first time, let alone a second time. All the foregoing reminds this reviewer why we passed this book over when it first came out, in 2012. Moreover, it was so esoteric that it was surely destined to be a one-off—what market could there possibly be for a second act? Surprise, surprise. In 2017/18 author Patrick Dasse put out a series of currently six related books all about the Giulietta Sprint's successor, the Tipo 105. (Strictly speaking there's a 7th book, about the Tipo 33.) Now, these books go about their business entirely different than Alleggerita, but they are outliers just the same in the sense that they don't seem to be troubled in the remotest way by the sorts of factors a publisher normally weighs. Dasse, as we elaborated elsewhere, runs his own publishing house so the only person he has to armwrestle is his bank manager. 
None of the foregoing should diminish your interest in this book, quite the contrary! If you do start looking for it, be aware of: 1, this set is also available in a German edition (ISBN 978-3871660665) of 1500 numbered sets; the English edition runs to 3000. 2; there is a book by the same title but 20 years older (ISBN 978-9080119710)—that is the book this 3-volume set we are reviewing here is derived from. 3, there is a new series of books with the same title (also designed to match this set), also published by Dasse; it currently includes Alleggerita Herbert Schultze and Alleggerita Stahlberg-Racing. The difficulties sorting things out do not end here… 
The original version of this book is so different from this 2nd that there is no point talking about it except to record its particulars: published in 1994 by Corsa Research in Belgium, 408 pages, 2500 numbered copies, hard to find today and expensive if you do. It was written by its proprietor (and bestselling historical novelist!) Tony Adriaensens, who is also listed as an author on this set, to which he wrote the Foreword—and explains that he really has nothing to do with the new book. He does relate the backstory to how Dasse approached him about acquiring his archive but neither he nor anyone else here explains why Dasse was interested in the first place. That little story would probably go a long way towards explaining how research into just one particular GTA turned into researching all, and one book mushroomed into a set of three, which in time would yield the most recent crop of seven and span the entire 105 Series. To flog an earlier point once more: for a book that has a Preface, an Introduction and a Prologue, it nowhere makes any declaration as to what it's about, who the people behind it are, or how it will go about its business. GTA-ers may not need such enticements but the fact that almost a decade after publication the publisher still has unsold stock probably means a good number of prospects don't even realize what they have here, and the 350 Euro price doesn't exactly invite experimentation! The set consists of three volumes of similar size; they are not numbered but logic would suggest that "Alleggerita" = vol. 1, "Technical Documentation" = vol. 2, and "Register" = vol. 3. Vol. 1 is the cornerstone, containing the bulk of the narrative exposition, and vols. 2 and 3 present ancillary material. Much of the material was in some form already in Adriaensens' original Alleggerita, but Dasse et al have cast a much wider net.
Vol. 1 explains the role of Autodelta, introduces the sexy Giulia TZ (105.11), highlights the emergence and then popularity of touring car racing in Europe and the subsequent organization of the sport in the form of governing bodies and rules, and dates the switch from amateur to pro-racing to 1965—with Alfa Romeo entering works teams running the GTA, the protagonist of this book. Before turning to an examination of every—every!—aspect of that car its family tree is fleshed out with a discussion of 105.16 (Giulia TI Super) and 105.02 (Giulia Sprint GT). From seatbelt webbing to rear axle ratios, you'll get to know the GTA at an intense level of magnification. The bulk of the photos here is from Alfa Romeo's archive (a treasure hunt that spawned Dasse's subsequent crop of Alfa books) and largely not been published before. Eighty pages into the book, the coverage switches to "Race History" by model. This takes the form of brief event synopses, quite thoroughly captioned photos from a variety of sources, and GTA race results at select venues. Lots of Trans-Am info too. The results data are not exactly bristling with detail but given the Sisyphus work of having to gather it is a commendable effort nonetheless. All this is interspersed with occasional sidebars by drivers. Vol. 1 ends with an annotated list of engines developed and built by Autodelta 1965–75. If you thought vol. 1 was pretty specialized, vol. 2 takes that to a higher level. 
Vol. 2 will now definitely remind you that you really wish someone had explained who the people behind this book are. What makes them tick?? Why go to such extreme lengths?? This volume is full of source material, meaning reproductions of internal Alfa Romeo material such as homologation files for the various models, reproduced in their entirety, full size (you'll want to brush up on your Italian), and even the extensions to homologation reports that were required to document modifications. Then there are official tech documents covering everything from torque values to how to align throttle valves—and all of this is in English because these came from a US source that created them on their own reconnaissance in the 1960/70s. And then the coup de grace: photos of every racing part ever produced. Well, there are some gaps, but hope springs eternal that one day every last O ring will have been photographed. Alfa Romeo never bothered to create an in-house catalog and this sort of knowledge used to reside only in the heads of parts and service guys. (In fact, dealers everywhere were expected to have someone on staff who spoke enough Italian to be able to communicate with Autodelta!) Restorers will wear out this volume for sure, although it should be realized that using surviving paperwork to assign parts to specific years of production can be hampered when record-keeping in period (or reconstructed later) was not in synch with real-time practice in the field/shop floor. 
Vol. 3 is conceptually the most normal: a registry of known and confirmed GTA/GTAJ/GTAm chassis, in numerical/chronological order (but subdivided into models). Those that had competition history have it enumerated by date/event/result. The cutoff is 1981, the year the last homologations expired. The chief data wrangler here is Martin Übelher who had been gathering such info for decades. Also, all sorts of heavy hitters in the Alfa club world have been involved and consulted. All sorts of useful bits are appended: motorsports governing bodies and their classes/groups, abbreviations, an English/German glossary, and a bibliography. If you find the set second-hand, be sure it includes the two loose supplements of a reproduction Giulia Sprint GTA manual and the handbook insert for the GTA 1300 Junior, as well as an errata sheet. The set number should be stamped on the box (this is not a clamshell or slipcase but a carrying/storage box with handle) which should have a cloverleaf sticker. Tony Adriaensens likes to say his books "have never disappointed anyone, they're all extraordinary!" Before you dismiss that as an idle boast, consider that all but one of his six frightfully expensive books have sold out. And as to Patrick Dasse, one can only wish we would blow his horn more! Won a 2013 German Automobile Club (ADAC) "special award."« 
OCTANE, COLLECTORS' EDITION #114, 12/2012
Alleggerita 
»ANY NEW BOOK by Adriaensens and friends is newsworthy and, while this thumping three-volume set about the Alfa Romeo GTA is a reissue, it's also massively expanded and revised over the first edition. Anyone who is a bit partial to Autodelta's 105-series homologation-special Alfas will be enraptured by the first 460-page volume, which covers the birth of the Bertone-penned beauties and the team that prepared them, and a massively comprehensive race history including early Trans-Am bids, endurance campaigns, European hillclimb runs and rally outings. The second volume offers a breakdown of the GTA's design and homologated parts, while the third covers individual chassis numbers, with race and ownership histories. And that is before we've mentioned the 347 b&w photos and 118 period color images. A fabulous effort.« 
ALFA ROMEO DRIVER  (GB), Volume 46/6, December 2012, by Jon Dooley 
ALLEGGERITA – Second revised edition 
»Alleggerita means lightened in Italian, so that GTA or GT AIIeggerita stands for lightened GT. As the courier staggered to my front door with two copies, one for my brother, the other for me, I remembered that the quoted weight for a copy was somewhere approaching 8.5 kgs. This is definitely not a lightweight publication. This new revised edition comes in three volumes. The first volume, some 460 pages, is the story of the development and the racing, of the 1600 GTA, the 1300 GT Junior, the 1300 GTA Junior and the GT Am. The second volume, another 460 odd pages, covers documentation and pictures of the genuine parts that make up these special Alfas. The documentation includes homologation form copies and much original data. The third volume, over 520 pages, carries a Register of the cars known to have been built, with histories where available and sufficiently certain to be publishable. Patrick Dasse tells me that what is published is about a third of what they have to hand but validation is an important part of the process. So, if you are lucky, your GTA may be shown with its early competition and/or ownership history. A line has been drawn at 1981, the year when the last homologation of these cars expired. You will get the picture, that this is not a lightweight exercise, especially as the 1450 pages are nicely printed on heavy quality paper. The first edition, by Tony Adriaensens, was published as a single volume back in 1994 by Tony's Corsa Research operation in Holland. I was lucky enough to come across Tony at a race meeting that year, I think Zandvoort, took a deep breath and got Tony to sign a couple of copies for my brother and me. I have never regretted the purchase for a moment. His first edition was a refreshingly original piece of work from information and knowledge he had picked up from his travels and visits over many years, with quite a lot from a Benelux perspective. Alfa Romeo Benelux had always been an enthusiastic supporter of Alfa competitors, not least because the blue riband touring car race, the Spa 24 Hours, took place in the middle of its territory. Over the years following that first edition of Alleggerita has become recognised as probably the leading book on GTAs, helped by its publication in English. Eventually out of print, good used copies were fetching anywhere up to £1500. 
There is a good list of helpers thanked in the front and it looks as if sources are widely based, now including Alfa's Centre Documentazione as well as familiar names like Ken Geiger of the GTA Register and our own Max Banks, Nick Savage and Stuart Passey. I have not participated myself, other than through contacts with friends, but will do now. The plan is that there will be periodic updates to the Register. There is a slightly heart rending introduction by Tony Adriaensens explaining how the second edition came about, of how the first edition took him a while to repay the investment and of how he had put away his files of information. Happily the new co-authors persuaded him to licence that information to them and the new publication and to participate again. So this new edition is an excellent example of a piece of human co-operation working out well. At this stage it is impossible to have read the whole set of books. Broadly the original book has been trebled in size. I could not even imagine trying to tick off all the data. There are many additional photos, with many more in colour. The first GTAs as entered by the Jolly Club and teams like Team VDS had colour stripes that set off the basic red paintwork and recall the days of drivers like Scarambone, di Bona and Geki Russo as well as the more familiar de Adamich, Bussinello and Rindt. There is also good coverage of the US TransAm scene, which took several of the right hand drive cars. lt was a time when Alfa more or less industrialised touring car racing and benefited from at least a 14-year commercial life for the 105 series. Perhaps a better and more profitable approach than today's constant facelifts trying to grab media and market space. The only caution I have expressed back to Patrick Dasse is on the classification of the special parts by year. This arises from the inevitable desk top nature of some of the work and follows the arrival of the parts on homologation sheets and parts books. So, many are shown as 1966, say, or 1967 when to my knowledge they were already in use in 1965 and even earlier. What happened was that Appendix J changed from 1.1.1966 and what could be fitted without homologation in the earlier version of Appendix J then had to be put on the form. For example, the dynamic air box was in use in 1965 but was homologated later; you can actually see the collector behind the grilles in the 1965 photographs in the book. Equally the knuckle extenders on the tops of the front uprights were in use even on Tl Supers from 1964 and also on TZs, as you can tell from the camber changes and lifted from wheels on the cars that used them. We need to be able to present this in the right light to give Alfas running in Appendix K today the best possible chance, based on how they were raced in period. This fabulous set of books had been published in 3000 copies in English and 1500 in German. At 349 it is a bargain, naturally, for GTA (and GTAm) owners for whom it will be a huge support to the provenance of their now valuable and much loved cars. The publishers have serially numbered the copies and have retained, for a while, copies with numbers that relate to those on the cars built. They should visit the publisher's web site as above and email for information on this. For those who do not, yet, have a GTA but savour the marque and what was achieved back then, it is quite an economical way to enjoy these fabulous cars. You will also find it sets out a pathway to build yourself a GTAm and discover that it can turn out to be that strange thing, a genuine original replica. I don't know what the effect will be on those £1500 values previously commanded by the first edition, nor what the values will be for this second edition in a decade or two. I do know that this edition has enormous value, even if its weight would destroy any of the GTA's lightweight panels. I also know that if it is ever produced in a third edition it will have more than could be read in a lifetime and will need to be delivered on its own wheels. Like the first edition this one comes with a copy of the owner's handbook for the 1600 GTA and the handbook insert for the GTA Junior. Many congratulations to the authors and all concerned. The major motoring book shops appear to be stocking the book set at around £299 in the UK.«
THOROUGHBRED & CLASSIC CARS, 12/2012 
Alleggerita
»Patrick Dasse has revised Tony Adriaensens' original work covering the Alfa Romeo Giulia Sprint GTA into a 1456-page, three-volume heavyweight. Volume one covers key racing cars, from the original GTA to the fearsome GTA-SA, with chapters on each describing development and racing highlights plus lots of racing results. Most of the space is devoted to photos of the cars in action and their drivers, which means the development history is concise. Volume two covers technical documentation, complete with original homologation papers and period images of parts.
Volume three is a register of chassis numbers plus details of ownership and race histories up to 1981. The set also includes a reproduction Giulia Sprint GTA manual with GTA 1300 Junior supplement. This powerful reference source is limited to 3000 English-language box sets and 1500 in German.«
AUTO MOTOR SPORT, Heft Nr. 26, Ausgabe 11/2012 
1456 Seiten Alfa Romeo GTA
»Für echte Fans der sportlichen Alfa Romeo GTA/GTAJ und GTAm gibt es das Standardwerk "Alleggerita" nun wieder in einer auf 1500 Exemplare limitierten dreibändigen Neuauflage (www.alleggerita.de) aus dem Dingwort Verlag. Der erste Band schildert auf 464 Seiten mit 347 Schwarz-Weiß- und 118 Farbfotos die Entwicklungsgeschichte der sportlichen Alfa Romeo mit dem Schwerpunkt Europäische Tourenwagen-Meisterschaft. Band zwei liefert eine umfangreiche technische Dokumentation und das dritte Buch ein Register der bekannten Modelle.«
MOTOR KLASSIK, 12/2012 
Alfa GTA? Alles gesagt?
»Für Alfisti unverzichtbar: 3 Bände über den Alleggerita. Fahrer und Freunde klassischer Alfa Romeo sind schon etwas Besonderes, vermutlich ist keine andere Spezies so sehr mit der Marke verbunden – weshalb eine Fleißarbeit wie diese wohl nur über einen Alfa verfasst werden konnte: Drei Bände mit zusammen 1456 Seiten und 1667 Fotos ausschließlich über den Giulia Sprint GT Alleggerita, sprich, die Rennversion des Bertone mit Alu-Karosserie. Warum tut man sich das an? "Sind wir nicht alle ein bisschen verrückt?", lautet die Gegenfrage von Autor Patrick Dasse. Eigentlich hatte der Hamburger nur auf eine Neufassung des 1993 publizierten Standardwerks Alleggerita von Tony Adreaensens gewartet, der sich dazu indes außer Stande sah. Also erwarb Dasse dessen Rechte samt Archiv, erweiterte das Ganze mit der detaillierten technischen Dokumentation auf zwei Bände und verfasste dazu mit Martin Übelher einen dritten Band mit sämtlichen Chassisnummern. Dazu gibt es den Reprint eines Prospekts – dafür sind 349 Euro ganz schön günstig, zu bestellen unter 040/669 55 90, www.alleggerita.de. Wer übrigens einen GTA besitzt, erhält seine Ausgabe der limitierten Auflage (1500) mit seiner Chassisnummer.«
OLDTIMER MARKT, Ausgabe 12/2012 
Leichtbau in schweren Wälzern
»Schon die schwere einbändige Erstausgabe ließ 1993 kaum noch Fragen zum Thema Alfa Romeo GTA offen. Jetzt legen Tony Adriaensens und seine Co-Autoren noch je einen Band über jeden jemals gebauten GTA und eine technische Dokumentation über so ziemlich alle Einzelteile dieser Autos nach – Antworten auf Fragen, die nicht jeder stellt…«
AUSTRO CLASSIC, Ausgabe 2, April/Mai 2013 
Alleggerita
»… bedeutet im Italienischen "leicht", was angesichts eines 7,7 kg schweren, dreibändigen Werks mit an die 1.500 Seiten als unpassender Titel empfunden werden könnte. "Alleggerita" bezieht sich allerdings auf das "A" des Alfa Romeo Giulia GTA, womit auch klar ist, worum es in dem monumentalen Werk geht. Vor mehr als 20 Jahren schrieb der Belgier Adriaensens die erste Ausgabe des Standardwerks über die sportlichen Tourenwagen von Alfa Romeo und jetzt hat der Hamburger Sammler Patrick Dasse die Rechte erworben und das Werk in erweiterter und aktualisierter Form neu aufgelegt – aber das ist nur der erste Band. Band 2 enthält die technischen Unterlagen, Homologationsblätter und Abbildungen der einzelnen Bauteile. Der dritte Band schließlich ist ein – wiederum reich illustriertes – Register aller Fahrgestellnummern mit – soweit bekannt – deren Schicksalen und Rennergebnissen. Wer nicht warten möchte, bis das Werk um ein Mehrfaches des Preises nur mehr antiquarisch erhältlich ist findet Bestellmöglichkeiten und alle Informationen unter www.dingwort-verlag.de«